Antonio Conte's Chelsea managed to steal a point from their trip to Anfield, allowing them to retain their place in the top-4, 13 games into the season. The manager is still short of quality in a couple of positions in the first team and has extensively been linked to a number of star players in the last few weeks.
The Blues are expected to spend again in January and a striker will surely be right up on the wish-list for Conte. Michy Batshuayi has not impressed enough as a back-up for Alvaro Morata in the first team and Conte is desperate for a star name, who can improve the quality of the side.
There are very few players available in the January transfer market, that can match up to the expectations at the Stamford Bridge and one such player, who is now being offered to them is Gabon international Pierre Emerick Aubameyang.
According to reports from the Mirror, the 28-year old's relationship with the club and the manager is on a thread. The story claims that the manager Petr Bosz has had enough of the striker's disciplinary problems after he saw a red in his side's 4-4 draw against Schalke in the Bundesliga.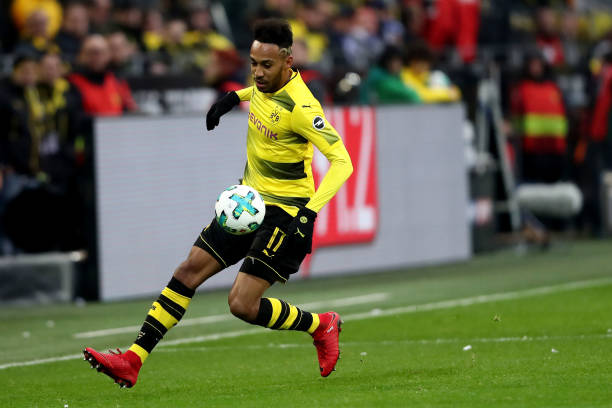 Aubameyang is wanted by a host of European club even from before the start of the season but with Bosz ready to get rid of him, he may be available on a cut-price deal, and should surely be scouted by Chelsea.
Currently, the first choice at the Bridge, Morata, has settled well into life in England and has eight goals in 12 league games for the Blues. In comparison, the Dortmund man has 11 league goals in 12 games and is a certain upgrade on the Spaniard.
One of the quickest strikers and the best finishers in Europe, Aubameyang is a late bloomer in the European circuit but has always been a genuine goal scorer. He now has 96 goals in 140 Bundesliga appearances and has 13 goals in 31 UCL appearances, making him one of the most productive strikers in Europe at the moment.
He has 31 and 25 league goals in the last two seasons and has started in the same manner but it is hard to see him stay beyond the January transfer window and could be a huge coup for Chelsea.
His price will not be a factor but if they sign Aubameyang, Chelsea will have to keep either of him or Morata out of the starting XI, which could deter their momentum this season.
Conte has his ways of making things work and may even set up a freighting front three of Aubameyang, Morata and Hazard, that can pick teams apart. But at the moment, for the player, the Bridge is not exactly the next best destination.