Real Madrid are now unbeaten in their last four games this season and are finally finding some momentum in their bid to catch up to arch-rivals Barcelona in the La Liga title race this season. Zinedine Zidane, who won back to back UCL titles at the Bernabeu, decided not to spend too vigorously in the summer transfer window and that has had its effect on their campaign already.
The manager is probably short of a striker at the moment but the need of an able centre-back is also quite evident in recent times. French ace Raphael Varane and skipper Sergio Ramos are easily two of the best in the business at the moment but the La Liga outfit do not have an able replacement, for contingencies.
The versatile Nacho Fernandez has been the only backup this season and has already racked up four starts as a centre-back, due to the unavailability of the either Varane or Ramos on four occasions this season and it is important that Zidane has a genuine centre-back, who can slot right in.
They are a rare breed at the moment, but Los Blancos usually aim for the cream and one player constantly on their radar is Athletic Bilbao ace Aymeric Laporte.
Reports from Spanish news outfit Mundo Deportivo claim that the La Liga Champions are now set to battle Barcelona in the chase of the 23-year old in January. Wanted as a replacement for Pepe, who quit the club in the summer, Laporte has a contract with Bilbao till 2020, with a release clause of £58m, which will only rise to £67m at the end of the season.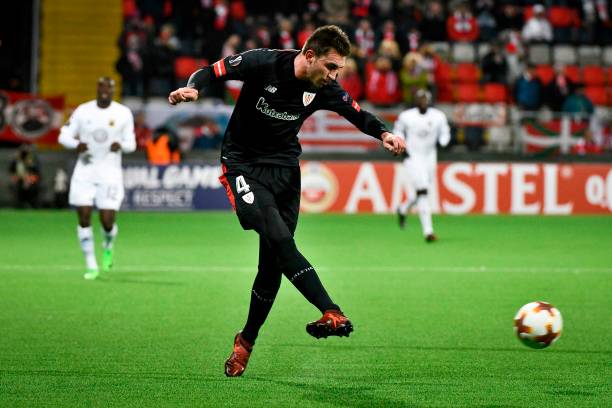 So it makes sense that a number of clubs are interested in his signature in January, even at which point he will turn into the most expensive defender if a deal goes through.
At just 23, the French U21 international has 155 La Liga appearances and 24 Europa League appearances and is one of the most consistent defenders in Europe in more than a year now.
Strong in the air and smart with his positioning, Laporte is a smart passer of the ball, which allows his side to set up attacks from the deep. His discipline and concentration are perfect for a centre-back of the highest quality and certainly deserves a chance at the Bernabeu, even at such a young, unproven age.
However, he will only be a back up to the first choice defensive pairing at the club, which might be a hindrance to his development but playing alongside the best in the game is certainly going to cover it.
His release clause could be an issue, given he has no international exposure as well yet but with options in the market limited, it is important for Real Madrid to seize this opportunity and bring him to the Spanish capital.