Ross Barkley could well be the newest acquisition for Tottenham Hotspur in the winter transfer window next year, according to reports. The Lilywhites are now installed as favourites to sign the Everton midfielder, who runs out of contract next summer. Barkley is keen to leave the Goodison Park, and that could happen at the start of new year.
Mauricio Pochettino has identified Ross Barkley as his primary target, but should Tottenham make attempts to sign the, somewhat criticized, somewhat praised English midfielder?
He is certainly one of the most glittering English talents playing in the Premier League right now. The 23-year-old has been a key component of the Everton's creativity for the past couple of years. However, with the arrival of attacking talents such as Gylfi Sigurdsson and Davy Klaassen, Barkley's future at Everton is highly insecure.
Mauricio Pochettino could definitely make use of a player of this calibre. The Argentinian wants to transform Barkley into a deep-lying playmaker, more like a number eight, which would only be an improvement.
Barkley is blessed with technical abilities, and he also packs a punch in midfield with the strong use of his body power. He is a proven ball carrier as well while his mobility enables him to scour the final third of the pitch. While Poch may not necessarily need the latter, Barkley's technical ability and strength could be necessary as he plans to transform Barkley into a number eight.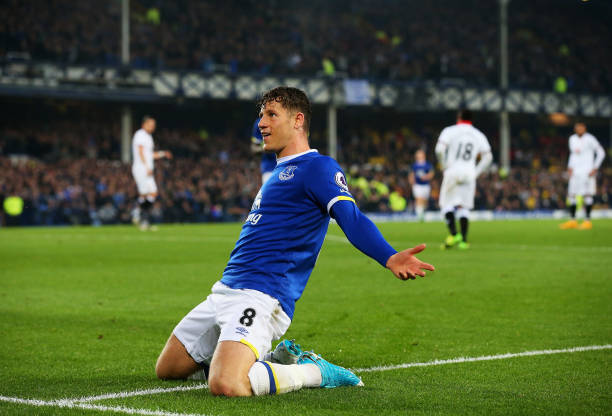 Christian Eriksen is the only real playmaker for Tottenham Hotspur. Though he is one of the best playmakers in the league as well, Spurs tend to suffer heavily in his absence, especially with lack of chances. Playing Barkley, who is also a proven chance creator, alongside another quality playmaker will be a killer move by the Lilywhites.
He is normally criticized for his inconsistency and decision-making in the final third, and we'd say that Mauricio Pochettino is clever enough to elude them from his gameplay and install him as the number eight.
Thus, Barkley doesn't need to contribute much in the final third. Instead, he can focus more on his technical qualities and passing abilities to help his team create chances.
While the midfield partnership of Eric Dier, who is blessed with physical attributes to act as a holding midfielder, alongside Ross Barkley can add another dimension to their overall gameplay. Although Moussa Dembele is also a proven number eight, his offensive contributions aren't as great as Barkley.
There's no doubt that it will be a huge signing for Tottenham but only if Barkley manages to shine at the London based club. Most people would like to bet against the English International. However, over the years' Mauricio Pochettino's judgments and eye for a player is well respected at the club. Only time will tell how the Barkley move may pan out for the English giants.