Some disturbing news from the Etihad claims David Silva is eyeing a move to AC Milan after stalling contract negotiations with Manchester City. The gifted Spanish playmaker has less than two years remaining on his current deal but the Sky Blues are keen to tie him down to another long-term contract with the club.
However, Italian news agency, Tutto Mercato Web, claim that David Silva may not extend his contract and instead wants to move to San Siro next summer. The iconic Italian club were on a spending spree in the summer, after flushing  £175m on 11 new acquisitions and they're looking for even more, as the Rossoneri aim to challenge Juventus as a dominant force in Italian football.
As for Manchester City, David Silva's departure could create a serious problem for Pep Guardiola. The 31-year-old is a vital cog in Manchester City's midfield.
Often acting as the main string-puller, Silva facilitates the midfield lines. He is the transitional man for City, a player who bridges the gap from defence to attack or vice versa. He also uses his exceptional passing range to switch the point of the attack, leading to more spaces for the attackers to work with.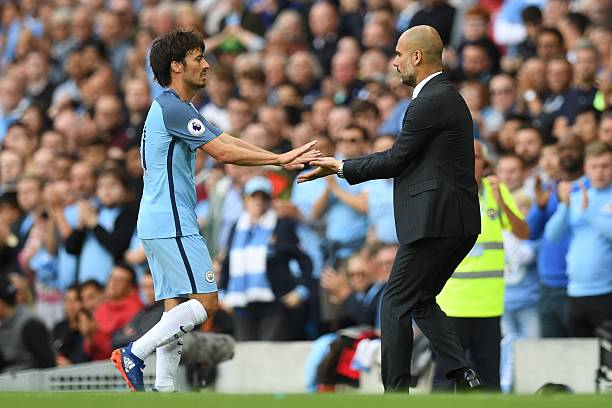 The use of a transitional player is a very important part of Pep Guardiola's Juego de Posicion style of play. Roughly translated as 'positional play' – it focuses on generating numerical superiority through set patterns of movement, proper spacing, and connections among attackers and an emphasis on ball retention and circulation. All of which, David Silva is more than accustomed with. Therefore, it only makes sense as to how important the Spaniard is to this Manchester City team.
But either way, David Silva is not getting any younger, so who do they have as his possible replacements?
Well, this is where David Silva becomes even more important to the club. Manchester City only have Ilkay Gundogan as a direct replacement for the Spanish playmaker.
The German midfielder is very used to Pep Guardiola's tactical setup, and he also found success under Thomas Tuchel, who was using the same gameplay at Borussia Dortmund two seasons ago. However, his injuries keep piling up, and one shouldn't rely too much on his fitness.
Therefore, Pep Guardiola's system and Manchester City's lack of midfield depth justify as to how important David Silva is for the Manchester giants. He's the glue that holds the midfield together and losing him right now, would be a huge blow for the Catalan head coach.