New reports from Sun football, suggests that Manchester United are keen to sign Roma midfielder Radja Nainggolan. Head coach Jose Mourinho is reportedly a huge admirer of the Belgian midfielder and has reportedly sent scouts to watch over Nainggolan in the Champions League. Nainggolan, who scored 11 goals and assisted five for Roma last season, is a key member of his side.
However, Manchester United are indeed plotting a move for the tenacious midfielder, which could be a potential game-changer in their bid to land the Premier League title.
Per Sun, Jose Mourinho admires the box-to-box abilities of Nainggolan and we can hardly disagree by looking at his performances for Roma in the past few years.
He has always been one of the most talked about subjects in the transfer market for the last couple of years and it might finally be time for the 29-year-old to make the much-anticipated move to the Premier League. Nainggolan can be an instant hit with United, especially with his all-around qualities in midfield. He can't be tied down to a particular role on the pitch.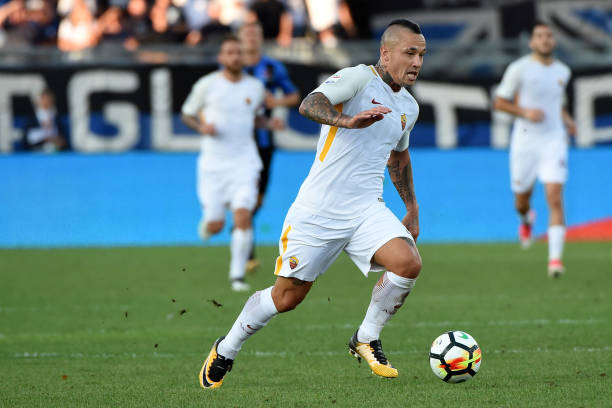 He is not someone who is fairly happy with sitting in the central areas and provide cover for the backline, nullifying threats and breaking up counter-attacking opportunities nor he is an attack-minded midfield, who always looks to add spite into the offence and thread killer passes in the final third. Actually, he's a bit of both.
He can be a perfect replacement for Michael Carrick. He'll likely be partnered alongside Paul Pogba and Nemanja Matic in midfield. While Pogba is more focused on doing his offensive duties, Nainggolan can act as the missing link between the midfield and offensive lines. He is pure quality in the central areas, and that will be a key factor for United.
One of the reasons why the United midfield could become unstoppable next season with the addition of Nainggolan is the fact that all three midfielders have a certain belligerence about themselves. Pogba with his ever-impressive, neat and flawless technique driving United forward while Nainggolan complementing the work of Matic in central areas and circulating possession and at times, breaking down opposition passes with killer tackles and smart interceptions.
There's definitely no doubts over Nainggolan's ability to evolve as a top Premier League midfield and even more so with Manchester United. The Red Devils have already shown great promise at the start of this season and with the addition of the right players, it could well be transformed into an unstoppable machine, and a powerhouse, which United were under the tutelage of Sir Alex Ferguson. Nainggolan seems to be the piece of the puzzle, Jose Mourinho was missing.