Carlo Ancelotti was blatantly sacked by the Bayern board following a disastrous start to the campaign this season. The Bavarians were dawdling behind Dortmund for the whole of September and were recently outclassed by a strong PSG side 3:0 in the Champions League.
Despite his sudden demise at Bayern Munich, Carlo Ancelotti still remain one of the best coaches in world football, who now, more importantly, is up for grabs in manager market.
Arsenal fans have long pleaded for the sacking of their boss Arsene Wenger due to years of mediocrity and his failure to improve the club's performance to turn them into a perennial top dog of European football. That pressure piqued when the Gunners failed to qualify for the Champions League this season, after finishing fifth in the Premier League last campaign.
Metro curated several Arsenal fans' tween just after the Bundesliga club had confirmed the sacking of Carlo Ancelotti, which you can find here. So it does not come as a surprise that rumours claim that the Gunners will open talks with the Italian as a possible replacement for the French manager.
It's clearly evident that Arsenal are suffering from lack of identity right now and the change of managers might prove to be handy for the London giants. But is Caro Ancelotti the perfect man to replace Arsene Wenger?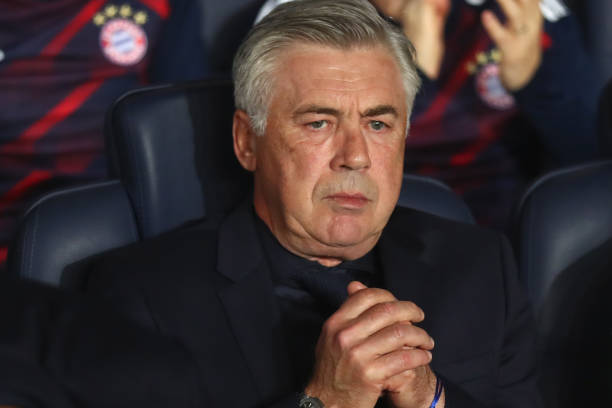 Well, at the moment, it clearly doesn't seem so! Especially if we consider his tenure at Bayern, it was evident that Carlo was lacking a bit of creativeness in his tactics. In this revolutionary era of football, where coaches always tend to try something new in an attempt to find success, Carlo Ancelotti was still sticking to his old methods. Therefore, one would sense that Carlo Ancelotti and Arsene Wenger's view of football are pretty much aligned. In fact, even Arsene Wenger is advertised to be more inventive than his Italian counterpart.
In order to change the club's fortunes, Arsenal needs to start from scratch, unlike resting it on the hands of experienced guys, hoping they might prevail. The Gunners need someone who can change the complete philosophy and start from the bottom, once again, just like Arsene Wenger did many years ago.
Truth be told, Carlo Ancelotti might be a good caretaker manager but he is not someone for the long term and Arsenal, as a club are renowned for their long-term views for the club. Therefore, someone like Julian Nagelsmann or Thomas Tuchel, who, by the way, is rumoured to the successor of Ancelotti at Bayern, will be the more appropriate replacement for Arsene Wenger.
Wenger's successful tenure at Arsenal has always been undermined thanks to the series of criticism from Arsenal fans' and their renowned 'Wenger Out!' banners. It should not be put to an end unless his replacement bags a lot of promise, which is certainly not the case with Carlo Ancelotti. Therefore, Arsenal fans should try to move on from their initial wish to bring Ancelotti back to the Premier League.