According to Spanish news outlet, Don Balon, Real Madrid have enlisted their top four transfer targets in the offensive zones. The list includes some world-class strikers such as Robert Lewandowski, Pierre-Emerick Aubameyang, Alexis Sanchez of Arsenal and finally, the rising star of Torino, Andrea Belotti.
The Italian is currently one of Serie A's hottest striking prospects. The 23-year-old scored an impressive 26 goals and bagged seven assists last season for Torino, helping Il Toro to a respectable finish in the Serie A table. Many clubs have tried to sign the youngster but the Maroons have neglected to negotiate any fee regarding their frontman. Therefore, the chances of him leaving Torino is very slim, unless of course, a club is willing to trigger his buyout clause of 92 million euros.
But should Real Madrid flush out an amount that big for a 23-year old?
Los Blancos have been in the offensive department with the recent injury of Karim Benzema, which will be a big blow for Zinedine Zidane. While midfield starlet Marco Asensio is also out indefinitely for an infected pimple. Therefore, the arrival of a new face is paramount for the twelve times European Champions at the moment.
Real Madrid haven't spent much this summer but instead opted to ship all the unnecessary players in the team. Alvaro Morata, Danilo, Pepe and James Rodriguez have all left the Bernabeu this summer. However, although the Spanish giants did well to replace all these departures with like for like signings in the shape of Theo Hernandez and Dani Ceballos, the replacement of Alvaro Morata still remain unscathed.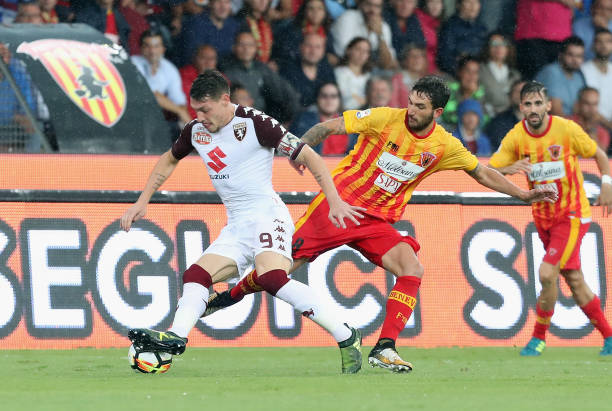 And that's where Andrea Belotti comes into the scene. The Italian youngster is a very hard-working and tenacious striker, who can be seen haggling defenders in tight spaces. He is not afraid to get into aerial battles and remains industrious throughout the game. He is the sort of player, who can fight for himself, rather than just relying on his teammates to create chances for him to finish.
Tracking back is by far his most valuable asset as a striker. In recent times, finding a striker with the ability trackback is truly a rarity but Belotti's tendency to fall back and help out his defence is one of the reasons as to why he is such a sought-after player throughout Europe. And for a counter-attacking team like Real Madrid, his presence could be very useful for Zinedine Zidane's men on the pitch.
And then, there is his scoring prowess in front of goal. The 23-year-old has a lethal right foot but is equally devastating when he is presented with an opportunity on his left. Belotti is just a complete package. In fact, calling him a 'mini Lewandowski' wouldn't be a bad analogy either and at the age of just 23, the striker is only going to improve his decision-making and a more clever positioning inside the box.
There's absolutely no reason as to why Real Madrid shouldn't flush money on the highly-rated youngster, who promises a lot going forward. Belotti will also give Real Madrid some future prospects unlike other players in their shortlist, who are all aged at least 28 or above.