The Champions League run last season and the brand of football being played at the moment at Anfield has made Liverpool one of the most exciting prospects for star players this summer transfer window. But Jurgen Klopp spends on players who fit into his system well, so not every player that they are linked with at the moment is exciting too many fans.
One such link that is drawing mixed reactions from the Reds on social media is Xherdan Shaqiri.
The Swiss international, who will have to play a huge role for his country in Russia, is one of the most gifted players on show in England but he failed to keep Stoke City in the top flight last season and is expected to move back to the Premier League with another club this summer. And reports now claim that Liverpool are ready to make a move for him in the upcoming days.
He has a release clause of around £13m and has recently spoken about being happy in England and wanting to play in the top flight for another season. He is also wanted by the likes of Tottenham Hotspur and Southampton and was also close to a move to Liverpool before he joined Stoke City. So Liverpool seem determined to land him this summer. But is it is a smart move by the Reds?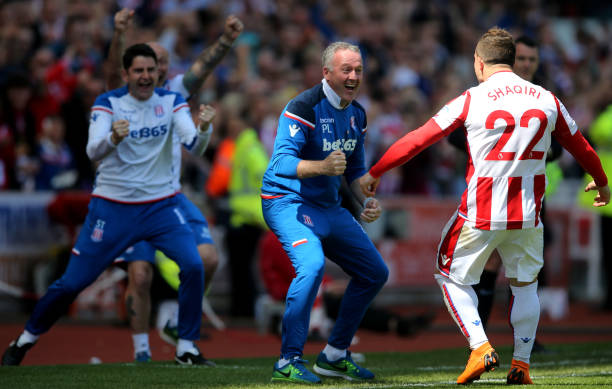 Though he has not been able to rack up impressive numbers in two years in England, Shaqiri has always come out as a match winner, troubling even the best of the sides in the league. He was around players who play to his strengths in the two seasons with the Potters but rose to prominence playing alongside players who are better than him, like at Bayern Munich.
He has experience of playing in the Champions League with the German giants, and has 69 appearances for his national side, making him an established star. However, his move to Liverpool will only make him a squad player.
The Reds have one of the best attacks in Europe with Mohamed Salah, Sadio Mane and Roberto Firmino. Klopp is not searching for replacements but wants to add players who can back up all the three names mentioned and Shaqiri fits the bill perfectly.
He is effective on the right wing but can also play as a false-9, and will surely be effective in front of goal. His attitude has been criticized before while his tendency to go unnoticed in games will not appeal to Klopp. But he is ready to give his all for his side and could turn into a match winner under Klopp.
Read More: Exciting Nigerian Youngster High On Liverpool's Radar: Just What Klopp Needs To Complete The Squad?
At just £13m, Shaqiri is an absolute steal in the current transfer market and as a backup, he is as good as Liverpool can afford to buy. He may not be happy with a squad role but if he is convinced of the project at Anfield, Liverpool are definitely making a statement with his signature.