It has been an eventful start to the transfer window at Manchester United as the Red Devils have already completed a couple of signings for the next season. But Jose Mourinho does not look totally convinced with his squad and is sure to add at least one more top class player to his side before the start of the upcoming campaign.
This has seen United linked with a plethora of talent from all over Europe but one name exciting many fans is Robert Lewandowski.
The Polish international, who bears the hopes of his national side in Russia, stands as one of the most consistent goal scorers in the Bundesliga and in Europe for more than three years now and has won a number of trophies in his time in Germany. However, he was unsettled late last season and is now ready to quit Bayern Munich.
It was earlier reported that Lewandowski communicated with the Bayern hierarchy, asking them to let him leave if a financially acceptable offer is on the table this summer. He was also offered to clubs like Chelsea, PSG and Manchester United but none of them appealed to Lewandowski, who has his eyes set on a move to Real Madrid.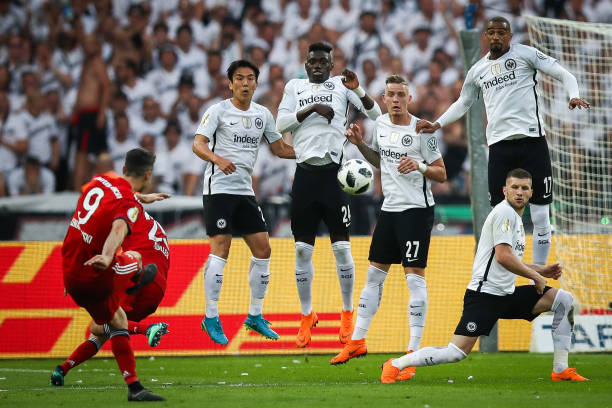 With Real getting a new manager next season, the 29-year old might yet fulfil his wish. Bayern have slapped a price tag close to €200m as Manchester United remain interested. So is he an option for the Red Devils?
Having proven himself at two different clubs in Germany, Lewandowski is a natural goal scorer, who loves to play on the shoulder of the final defender. He is strong in the air and is deadly in front of goal, adept at converting half chances and winning games for his side.
He is fresh off a 41 goal season and has a total of 180 goals and 51 assists in 257 Bundesliga appearances to date. He is easily one of the best strikers in the game at the moment and is an upgrade on the options at Old Trafford.
Read More: Can Manchester United Afford To Lose This 21 Y/O Desperate To Resolve His Future This Week?
Mourinho stuck with Romelu Lukaku last season but the Belgian has not been consistent enough to help his side compete with Manchester City for the league title. He is expected to remain the first choice next season as well but Lewandowski's inclusion will allow Mourinho to field the Pole in the attack, giving them ample backup.
The striker's role is not one of any urgency for United and at €200m, Lewa is a touch expensive. He will turn 30 at the start of the next season and is not a long-term option so United are better off avoiding this deal this summer.