The Context:
Brighton and Hove Albion's club -record signing Jurgen Locadia has settled into life on the South Coast and the demands of English football very well just two months after joining from PSV Eindhoven.
Locadia has made quite an impact scoring 14 minutes into his FA Cup debut and just six minutes into his Premier League debut. This meant going into last Saturday's tie against Manchester United he could break a 109-year record for Brighton of scoring in each of his first three games.
Unfortunately, Locadia couldn't manage it always he went close on a couple of occasions. The first of these was when he curled an effort from outside the box and forced a terrific save from United keeper Sergio Romero. The second and the best of his chances was a header at the back post which he headed over the bar. 
The Player:
The 24-year-old striker has added another dimension to Albion's attacking option. He brings a striker who is quick, strong and a natural finisher of which he has demonstrated already. The game that springs to mind was in the FA Cup sixth round against Coventry City. The League Two outfit could not deal with Locadia's blistering pace which he used to get in behind them on a number of occasions. He also demonstrated his strength when he held up the ball on a couple of occasions. Then he demonstrated how good of a finisher he by accurately tucking the ball into the bottom left corner in the 14th minute after just a couple of minutes before that hitting the bar.
Locadia again showed his pace on Saturday to get in behind the United defence two or three times.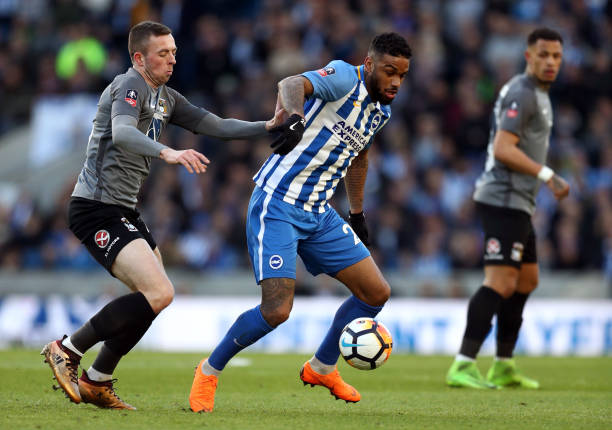 A Growing partnership:
The Dutch striker is also starting to build a nice partnership with fellow striker and January signing Leonardo Ulloa. The two linked up well when they first played together in the Coventry game and caused them a number of problems. On Saturday, the pair also linked up well on a couple of occasions, with Ulloa bringing down the ball and laying it off to Locadia.
Locadia also linked up well a couple of times in the Coventry game with fellow Dutchmen and former PSV teammate Davy Propper. Propper set up a number of Locadia's goal when they were at PSV. This is something that could rekindle the partnership that they showed at PSV.
Locadia's game time has been brief:
Despite Locadia's impressive start his game time in the Premier League has been limited with him only having played 20 minutes in the last two games. This is largely due to the impressive form of top goalscorer Glenn Murray, who has thirteen goals in all competitions. Had Murray's form not been so good, Locadia may have got more game time.
One thing is for sure, Locadia start to his Albion career has been very promising and if it continues he could well prove to be worth every penny.