As we edge closer to the winter transfer window, teams will be ready to pounce on their missed targets as well as prospective players. The race for the top four is heating up and nicely poised for the remainder of the season.
A huge talking point is that of Pierre-Emerick Aubameyang, last season's top scorer in the Bundesliga. Reports suggest that both Liverpool and Chelsea are ready to splash their war chest to lure the Gabonese international from the German giants. There is not a hint of doubt that his addition to either team would bolster the attacks immensely; not that their attacks are anything short of flabbergasting. However, as these two teams enter the most hectic schedule of the season, reinforcements are inevitable. But how will Aubameyang fair in the respective sides?
As we first have a look at Chelsea, Conte has been left frustrated with the lack of signings he has been able to make. But for Morata's arrival, Chelsea have not made significant signings for the top half of the field. Diego Costa's departure and Hazard's injury saw Conte's men falter here and there at the start of the season. As Hazard took centre stage, he has formed his own partnership with the Spanish striker up top. With that said, can Conte be content with his currently available options?
One would presume that it is hardly enough to compete on all four fronts. An injury to either one would dent their hopes of silverware because of lack of alternatives. The next alternative that Conte has at his disposal is Belgium powerhouse Batshuayi. But it is unsure whether Conte trusts the Belgian given that he might be sent out on a loan spell in January.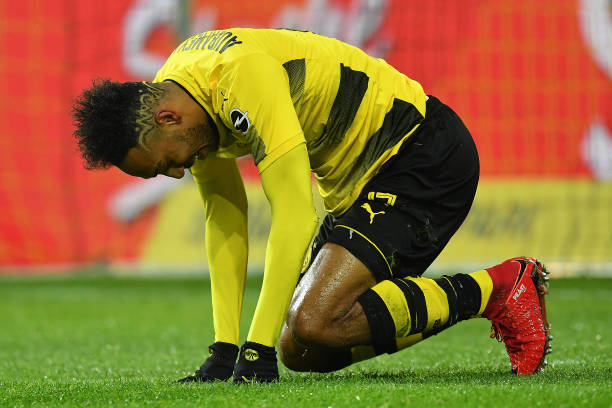 An air of uncertainty revolves around Stamford Bridge regarding their 3rd striker. Valued at around €60 million by The Blues, they could boast a scary looking attack, that is loaded with pace, flair and most importantly, goals among them.
As we move to the North West club, Liverpool themselves are heavily armed with attacking men all over the pitch. They have 49 goals in 21 outings this season; a team that catches the breath every time they attack. Liverpool's Egyptian newcomer Salah has led the attack with 16 goals already this campaign. Although The Reds have a host of talent in the attacking parts, they lack a pivotal number 9. Roberto Firmino has been the man deployed in that position but operates more as a false nine.
Liverpool have been accused of not possessing a world-class centre-forward who guarantees 20+ goals every season. In that aspect, Aubameyang is a great addition but does he fit well in Jurgen Klopp's system? Given their history at the Westfalenstadion, they are accustomed to each other and could get on with proceedings from the word go.
If it does boggle down to the decision of the player to choose from these two English heavyweights, it could be a huge headache. Liverpool could be a more suitable destination as their style of play is much like Dortmund's and his adaptation would come in easier at the Merseyside.
Where do you think Aubameyang is most likely to end up?