Liverpool have entered the race to sign Bayer Leverkusen wonderkid Kai Havertz. The Reds have joined the long list of potential suitors which includes the likes of Arsenal and Manchester United.
Havertz's meteoric rise to prominence in the Bundesliga has caught the eye of many high profile scouts and coaches around Europe. Currently, the teenage sensation has become an important part of Leverkusen's teamsheet, especially after the departure of Hakan Calhanoglu and Javier Hernandez this summer.
But why is Kai Havertz attracting so much attention around Europe or at least Premier League clubs to be more precise? Here's a detailed SWOT report on the 18-year-old attacking midfielder!
Strengths
Maturity. Havertz's playing style can be addressed in a single word. Despite at a tender age of 18, Havertz plays like a 28-year-old with his decision making and composure in the final third. In his younger days, his coaches used to play him with older kids and the young player from Mariadorf still used to prevail. Havertz's maturity at such a young age definitely gives him an advantage over other young talents.
Aside from his ever-growing maturity, Havertz is also a very versatile midfielder. Normally playing as an attacking midfielder, the 18-year-old has the tendency to drop in deeper position or even shift out wide to support the wingers or the fullbacks.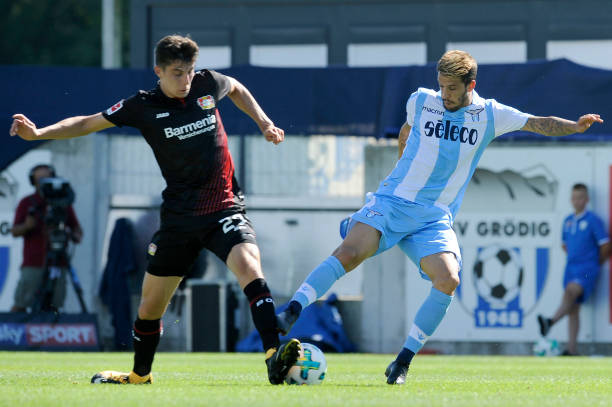 He is fairly good at dribbling past opposition defenders and also has decent pace about him. But most importantly, Havertz has a great tactical nous. The youngster prevailed under the tutelage of tactical genius Roger Schmidt, who trusted the youngster with all his heart. He can be very useful in executing a well-planned pressing scheme regardless of the situation.
Furthermore, Havertz is surprisingly good at aerial duels. His fearless nature of play, lets him go into any duels without having any second thought, which can be an intriguing asset for the Premier League.
Weaknesses
Lack of physicality is a significant weakness for Kai Havertz. Although he is quite aggressive in his game, Havertz is often outdone by a strong physical presence in the backline. Just like we saw against Borussia Dortmund last season.
Although he's quite good at creating chances for his team, Havertz in pretty bad on the other end. His finishing skills apparently need a lot of work while he also gives the possession away at times. His lack of physicality doesn't help him in holding onto the ball for long either.
Last but not the least, Havertz also needs work on his defensive contributions. The young attacker hardly likes to track back to help his team in defence.
Opportunity
Kai Havertz may find life difficult in the Premier League. Considering the level of competition, it would be hard for the Leverkusen man to secure first team minutes. However, he may actually be a great for signing for Liverpool, with the Reds bracing themselves for the departure of Coutinho next summer.
Threats
Lack of experience remains the one and only threat to signing Kai Havertz. The 18-year-old is by far the most talented player in Leverkusen but is equally inexperienced in high-end encounters. The youngster should instead stay for a couple of years in the Bundesliga to get more used to top flight football, only then he can be prepared to face the rigours of the Premier League.