24-year old Scottish player Jamie Walker was reportedly on the verge of a move to Rangers FC. The Hearts youth academy product was pursued by Rangers FC all summer. However, a move failed because the clubs could not reach an agreement on the player's transfer fee. While Hearts were set on a £1m fee for the player, Rangers boss Pedro Caixinha refused to go over the £600,000 mark for the 24-year old attacking midfielder.
Hearts knocked back two Rangers' bid including a deadline day bid for the player. While Walker himself was keen on the move, Hearts refused to accept such a low valuation for their player and the insiders at Hearts were fuming at the 'deadwood', make weight players being offered for their star man. Negotiations hit a stalemate and Walker stayed at the club.
However, his current contract runs down at the end of the current season and he has now turned down the opportunity to sign a new deal at the club. Walker has been at the club for over 14 years now and is ready for a fresh challenge.
The Gorgie chiefs' decision to not accept Rangers bid might come at a hefty price and they might have to settle for a cut-price deal for the player in January or risk losing him for free at the end of the season.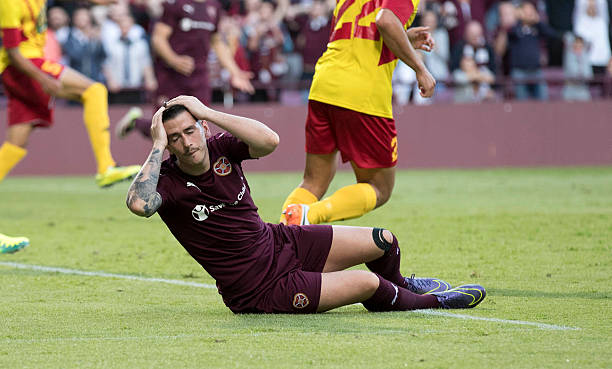 One can sympathize with the Hearts' boar, however, with their star player scoring 12 goals in 28 Premiership starts last season. He was in red-hot form and hence, they naturally decided to price out a better deal.
Things have not gone so smoothly for the player, however, since the failed move on deadline day. Nine games into the season and the Scottish player is yet to register a single goal. With January approaching soon, the player will have to play out of his skin if Hearts are to get anything near their £1M evaluation.
Although Caixinha brought in an interesting number of changes since his arrival at Rangers, holding out the move for Walker for a cheaper deal will no doubt be one of his smarter moves.
With Walker keen to move on, it might be that the player could be suffering, with his form because he is no longer mentally prepared to perform to his best for Hearts. It is nothing new watching players lose their best form if their mental preparation and condition is not at the highest level.
Let's hope for the sake of good football however that Walker does regain his form, since it is always saddening to see players who gave the game so much entertainment lose their way in a crucial point in their career. Can he be a hit at Rangers?