Reports suggest that Premier League's big shots Arsenal and Manchester City are interested in the Barcelona B striker Abel Ruiz. Abel Ruiz has made a mark in the ongoing FIFA Under-17 World Cup in India, leading his team into the round of 16. The young centre-forward scored a brace in Spain's thumping win over Niger that saw them qualify to the round of 16. Although the teenager has expressed his interest to stay at Barcelona, he could be on his way to one of the Premier League if Barcelona loosens their interest in him.
We look at an extensive SWOT analysis of Barcelona B's forward.
Strengths
Abel Ruiz stands tall at 1.82 metres which gives him an aerial advantage over his opponents. He has an abundance of pace and precision. To go along with it, he is also extremely strong on the ball and can hold up play, creating goal scoring opportunities for his teammates as well. He brings in a good mix of pace and strength that is vital for a centre-forward in this era. He can play all 3 positions up front, be it in the centre or drifting out wide as a winger.
Weaknesses
Predominantly, the youngster is a right-footed player. Failure to strike the ball sweetly with both his foot could prove to be a setback for him in the future as the quality increases around him. If he can cultivate his left foot, he could prove to be a lethal striker and one to look forward to in the future.
Another aspect of the game that could aid him greatly is his passing. He is found guilty on a number of occasions for having tried to go for the extravagant 'switch of play' pass at unnecessary situations.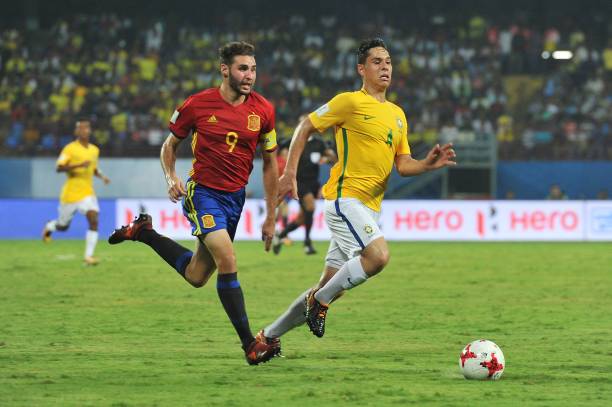 The vision to see a pass and implement it would take his game to the next level.
Opportunities
A number of top clubs are now targeting the Under-17 European Champion. A move to the Premier League could provide another dimension to his career. Pep Guardiola is well aware of the Barcelona academy and could make life easier and help him settle down quicker than others if the move to Manchester City does go through.
Threats
Abel Ruiz is focused and determined to make his entry into the Barcelona senior team. This puts a tick mark in his attitude box, but does it guarantee a place in the Catalan's senior team? Playing second fiddle to the already established strikers isn't going to help him reach his potential and show the world what he is all about. Staying at Barcelona and waiting for his opportunity could be a threat to the 17 year old's career.