As per English newspaper, Daily Mirror, the Gunners are looking for an Alexis Sanchez replacement and Manchester United winger Anthony Martial tops the list.
Arsenal are plotting to secure a deal for the former Ligue 1 starlet Anthony Martial next summer. However, considering the Frenchman still bound to contract till 2019, it seems unlikely that United will let him leave to their league rivals just yet.
However, the Gunners could be able to render a swap deal between the two clubs.
Mesut Ozil is also unsettled at the club, and the German attacker was linked with Manchester United in recent weeks. Therefore, should the Londoners manage to convince United to a swap deal for both the players in January, it could prove to be a productive deal for all parties.
Arsenal
Arsenal could gain the most from the deal. Firstly, they will be saved from having to see their star playmaker leaving the club for free next summer, which would be no less than a shame considering Ozil's talents. On the other hand, the Gunners can instantly get their desired replacement for Alexis Sanchez as well.
Arsene Wenger will be delighted to have the services of Anthony Martial with half a season still to go. They might even have Alexis Sanchez still in the team if he doesn't sign a permanent deal with any other club. Although Manchester City are rumoured to be interested to secure his services in January.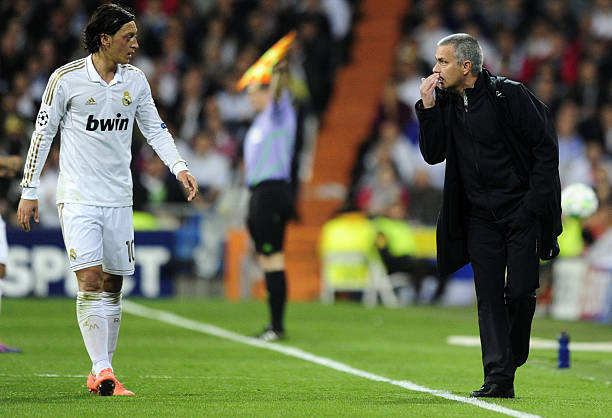 Mesut Ozil
Ozil could also depart from Arsenal and join his former coach Jose Mourinho at Manchester United. The German playmaker had the most successful time of his career, under the leadership of the Portuguese manager. In addition, Manchester United's extensive offensive firepower will also make Ozil a much more influential figure for the Red Devils, which only bodes well for the player, with next year's World Cup in mind.
Manchester United
It's clearly evident that Manchester United are indeed looking for another world-class talent among their ranks. Henrikh Mkhitaryan has been a bright spark this season but Juan Mata, Jesse Lingard haven't really been consistent enough while Paul Pogba is apparently injured.
As mentioned earlier, Jose Mourinho will love to see Mesut Ozil back under his leadership at Manchester United but most importantly, his arrival will also strengthen the Red Devils' offensive firepower as they look to outwit city rivals Manchester City for the Premier League title this season.
Anthony Martial
A move to Arsenal will be no less than a blessing for Anthony Martial, who clearly hasn't been one of the favourites under Jose Mourinho. Following his arrival at the start of last season, the Frenchman was often demoted to a place on the bench.
This season, Martial had only started to his name. However, the 21-year-old has shined impressively as a sub, scoring three goals in six Premier League games and Arsenal will be pleased to have him at their service at the Emirates.