Bayern Munich are in disarray at the moment. The German giants haven't registered a single victory in their last three encounters all competitions, which also led to the sacking of coach Carlo Ancelotti. There is growing discontent among players at the FC Bayern camp right now, and other European clubs are trying to take advantage of that situation to land any of their star players.
According to Mundo Deportivo, Inter are once again keen on signing Bayern midfielder Arturo Vidal, after failing to snatch him in the summer. The Nerazzurri club is also joined by PL giants Chelsea and Manchester United.
Jose Mourinho wanted the services of the Chilean midfielder in the summer, but the move never really materialized. However, the Red Devils haven't given up hope just yet. Arturo Vidal faces a delicate situation at Bayern right now, with the overload of quality midfielders, it's becoming more and more difficult to get regular starting opportunities in the team.
Vidal is currently competing with the likes of Thiago Alcantara, Corentin Tolisso, Sebastian Rudy and Javi Martinez for a place in the starting XI. Although he is still regarded as the midfielder leader for the Bavarians, there's hardly any doubt over his willingness to play more.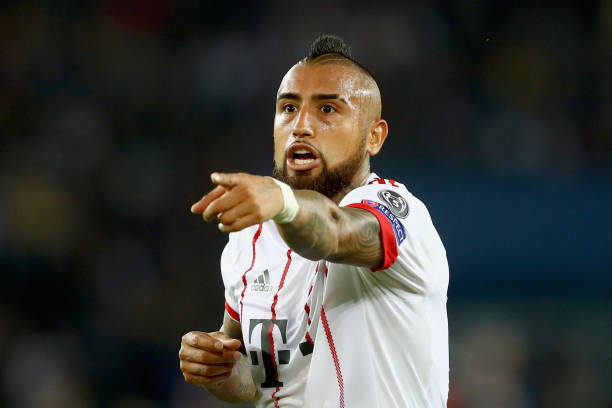 The 30-year-old midfielder has already confirmed that he'll be retiring from International football after the end of the next year's FIFA World Cup, thereby, signaling the fact that his career has come to a standstill now. And it's only obvious that Vidal will be looking for more wage and most importantly, more playtime as he enters into the final phase of his career.
Manchester United can deliver a perfect platform for him to shine. The PL giants are truly glittering at the moment, thanks to the influx of several star players, and of course, coach Jose Mourinho, who keeps the team together as a unified whole.
In the Premier League, Arturo Vidal will definitely be a star, due to the lack of holding midfielders of his class. Vidal can be devastating for any PL side, with his physical dominance and aggressive mentality.
With their ever-growing injury problems(Paul Pogba injured) and the steadily ageing Michael Carrick, head coach Jose Mourinho will want to have someone who can make an instant impact in the Manchester United midfield next season. The partnership of Nemanja Matic and Arturo Vidal could be devastating but more importantly, it can give Paul Pogba the freedom to roam in offensive zones.
Overall, it will be interesting to see how this situation pans up in the upcoming months. Bayern Munich are currently working on extending Vidal's contract but should he reject the extension, Manchester United are more than likely to go all out for him next summer.