Jose Mourinho's men have had a superb start with the accumulated points being one of United's highest in a new season. However, the unbeaten streak was torn apart shockingly by Huddersfield as United conceded two goals due to two individual errors. As Spurs and Chelsea beckon, Jose's men must react. Here's how they've been rated after the defeat today:
GK: David De Gea – 5/10
His desire to make history was broken as he conceded two. He deserved better from his defenders and made a smart save from Ince before the first goal went in.
RB: Antonio Valencia – 5.5/10
Tidy and alert but couldn't make a significant difference in the attack.
CB: Phil Jones – 6/10
Did well till he was on the pitch. Kept Depoitre in control and his final play was to defend bravely and get the ball clear for United. He then was injured badly and was subbed off.
CB: Chris Smalling – 5/10
Failed to prevent the goal both times even though his partner had to do better. Had his effort blocked off in the end.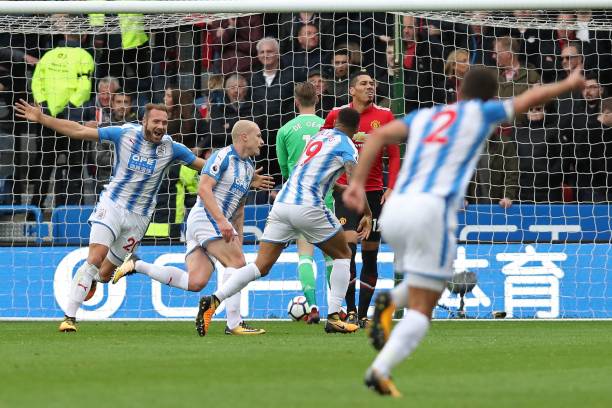 LB: Ashley Young – 4/10
Got in a couple of crosses and tried to attack from the left but it was frustrating again on many occasions.
CM: Ander Herrera – 4/10
Rusty and he couldn't get the ball forward. He was dispossessed many times and struggled when he was shifted to the role of a centreback.
CM: Nemanja Matic – 8/10
Consistently put the attackers and defenders at ease with his terrific control of the ball and on the proceedings in the middle but the attack just couldn't do enough to compliment his efforts. He looked jaded in the second half but it was another fine display.
LM: Anthony Martial – 3/10
Began the game with some venom and his Ill behaviour fetched him a red almost.  He was subbed off before the second half began.
CAM: Jesse Lingard – 3/10
His end product was horrible and he failed to deliver on a rare start.
RM: Juan Mata – 2.5/10
Made an individual error which lead to Huddersfield's first goal. Never really imposed himself and he too was substituted off.
ST: Romelu Lukaku – 7/10
He tried really hard today but the people beside him didn't do justice for him. He got an assist though.
Substitutes:-
LM: Marcus Rashford – 6/10
Had saved United from the bench in the past and he tried decently today. His header from a superb cross of Lukaku's was well taken.
CB: Victor Lindelof – 3/10
Where is your aggressiveness if you can't head a ball clear as a centreback? His mistake cost United severely and even though he was a tad better in the second half, the damage was done. He couldn't prevent the first goal as well and was turned inside out.
CAM: Henrikh Mkhitaryan – 3.5/10
Didn't really get the right speed and struggled to make an impact. Woeful for three to four games now.