Eternal rivals Barcelona and Real Madrid are set to go head to head in the battle to sign Brazilian wonderkid Vinicius Junior. According to Spanish newspaper, Marca, both the La Liga giants are interested in the services of the 17-year-old sensation from Flamengo.
Real Madrid are termed as favorites to land on an agreement regarding the teenager, but Barcelona are also hopeful that they can have some grounds to challenge the potential agreement between the two clubs. But where will Vinicius Junior, himself, fit in better?
FC Barcelona
Barcelona are often criticized for not managing to assemble a young squadron, who can potentially replace their aging stars in Andries Iniesta, Luis Suarez, and Lionel Messi, all of whom are well past 30. Although the Blaugrana did secure the signing of 20-year-old Ousmane Dembele as the Neymar replacement, they desperately a few more young players can suitably replace the Barcelona superstars.
Vinicius Junior can be an exciting signing for the La Liga league leaders. His excellent ball carrying abilities at such a young age, and that too for a striker is certainly a unique characteristic to have in this era of football. However, dribbling is flagship attribute, as he can show some flashy skill moves to move past opposition defenders with ease.
In some cases, the young Brazilian forward resembles Lionel Messi of Barcelona. Though he may not be as prolific nor as complete as the Argentinian superstar, his tender age leaves a lot of potential for Vinicius Junior in the future.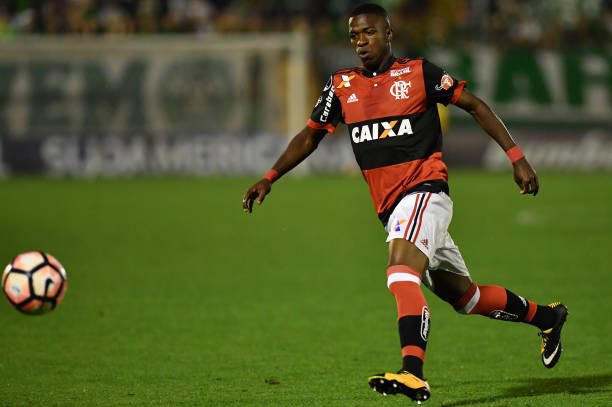 Barcelona can be the perfect club for Vinicius Junior to showcase his original potential. The Catalan giants are known for their ability to nurture young footballing geniuses into footballing superstars. Luis Suarez hasn't been in the best of forms, of late, and the Uruguayan is expected to deteriorate as the season progresses, meaning the 17-year-old will have some scope to be included in the starting lineup for Barcelona in the future.
Real Madrid
While Barcelona are criticized for relying too much on their old and experienced players, Real Madrid are guilty of not embracing the youth system at all! Although that scenario or more or less changed in recent years, Real Madrid are still deemed as one of the worst clubs for a young player to move to.
Los Blancos have nurtured very little young talents from their own ranks in recent season and were always aided by loaning out all the talented youngsters. Marco Asensio and Jesus Vallejo are the prime examples of Real Madrid's policy with young players.
Therefore, a move to the Spanish capital will be no more than a gamble for the Brazilian youngster. In fact, the European champs are already looking for players like Harry Kane, Dele Alli and Alexis Sanchez amongst many others, next summer, which is sure to minimize Vinicius' chances of breaking into the first team.
All things considered, Barcelona seems like the best bet for young Vinicius, who will be looking to make an impact on the European stage next summer. However, Zinedine Zidane's men stand as firm favourites to get hold of the promising youngster from Flamengo.