Manchester United have a pretty decent squad to compete at the top level and must continue to add some quality and depth to enable them to play with further flexibility. United have fired on all fronts this season and with an excellent finisher in Romelu Lukaku, their attacking quality is pretty apparent.
United already have Zlatan Ibrahimovic and Romelu Lukaku in the striking ranks, but with the former very unlikely to be offered a new contract beyond the end of the season, the Red Devils do need to add to their striking options as this could hurt them really badly if the Belgian forward gets injured or is having a rough patch. According to the latest reports, Manchester United are plotting a move for Napoli's sensational forward Dries Mertens.
After Higuain's departure, Mertens thrived even more after being switched from a wide role to a forward role last season and bagged an awe-inspiring 28 goals in 35 appearances. He missed out on the golden boot only by one goal and helped the Italian outfit to a third-place finish in Seria A.
Mertens was also named the Belgian player of the year 2016 for his goal-scoring exploits. The Belgian has a rather humble buy-out clause of £26.5m despite signing a deal with the club in May which keeps him there until 2020. Even this season, he already has 7 goals and 2 assists to his name in 6 Seria A appearances.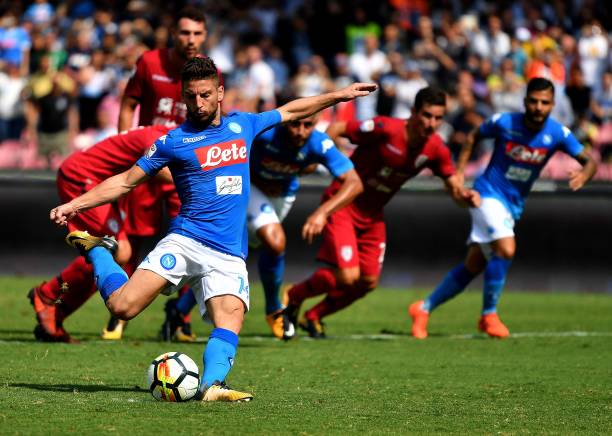 Even this season, he already has 7 goals and 2 assists to his name in 6 Seria A appearances. With several other clubs including the likes of Arsenal, Chelsea and Liverpool among the admirers of the 30-year-old, United will have to move quickly if they are to acquire his services.
Normally deployed as a centre-forward, Mertens can also be played as a wide-forward or as a winger. As is quite obvious from the stats, Mertens is an excellent finisher and his off-the-ball movement makes him even more dangerous to deal with while going forward. Mertens is also good with his long shots and is a threat from set-pieces. He is blessed with decent pace and dribbling ability and can hold the ball upfield to allow his teammates to come into the game.
If Jose Mourinho successfully beats the competition and brings in the 30-year-old, he could turn out to be the perfect back up player for Romelu Lukaku. With numerous competitions to play in, Mertens could also be rotated with Lukaku without losing much in terms of quality.
Mertens has a luxury of options to choose from with several clubs interested. It remains to be seen which club he chooses to go to.