It has been two and a half years since the departure of the charismatic figure in the Liverpool dressing room. Not just the dressing room, pretty much everyone connected with Liverpool Football Club. Not only has Steven Gerrard worn the red jersey with pride, he has steered and shown the direction for those on the ship year in and year out.
It dates back to October of 2003 when the captain's armband was passed on from Sami Hypia to Steven Gerrard. There was no looking back since then. Carrying the responsibility of leading such a huge club on his shoulders brought about an immense change in the player's performances. It was just one of those things that elevated the player into a whole new level. Now that is what a captain's armband should do to those entrusted with it.
Jordan Henderson has taken over the reins left by Steven Gerrard and has done satisfyingly well. But sadly 'satisfyingly well' is not good enough. Such is the pressure that comes along with the armband. Although the England international is a vocal character and shown some good leadership skills, it has certainly not taken his game to the next level.
Apart from a few brilliant passes in a few games and the rare goal or two from crunch positions, Henderson hasn't quite hit the ground running yet. It all together has to do with the kind of impact he has in each and every game. While he has transformed into a much better player than he was a couple of years back, he hasn't managed to find the consistency that he should be aiming at.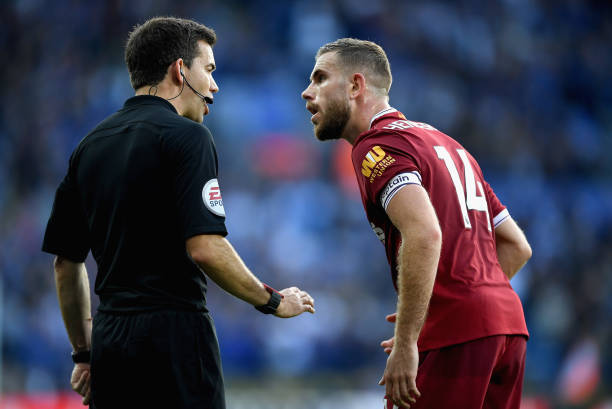 Whenever Liverpool have been pegged back by their opponents and found it hard to break the deadlock, they've always looked to Gerrard for a solution and invariably, he has not let them down. That doesn't seem to be the case under Jordan Henderson. At times his vocal strength too, hasn't been able to rally the boys and finish off games.
Under Jurgen Klopp, he has cemented the holding midfield position. In that respect, Henderson hasn't had much competition among the ranks. That being said, with the arrival of Naby Keita next season, question marks will be raised about his starting position in the team. Rotation among the squad is going to make him shift back and forth from the bench to the starting line up. That doesn't provide Liverpool with one figure they can look up to as their captain.
Filling the boots of Steven Gerrard is certainly not an easy task, be it his quality or his leadership and presence both on and off the pitch. Jordan Henderson has had almost two years to settle into this role, but has he done enough to wear the armband permanently?
Given what we have seen, it is bitter but fair to say that Henderson hasn't lived up to the expectations. Liverpool and Jurgen Klopp have a huge task in hand in finding a person who can carry the high expectations and responsibilities of being the captain of Liverpool Football Club.