The story so far –
Manchester City have been playing some high flying, high tempo football at the moment. Top of the table with 22 points out of a possible 24, they have been scoring goals effortlessly. What is it that has changed Manchester City?
What is it that has made them the team to beat? Every attack-minded player is breaking opposition hearts with goals and assists. They have learnt how to play the Pep Guardiola style of football, but at the cream of the crop for them, is Kevin De Bruyne.
Player stats –
Since joining Manchester City, he has completed 100 appearances and scored 25 times. This season, he has made 10 appearances with two goals and seven assists. More than his numbers, which of course are right up there, it's his vision and the way he reads the game that destroys oppositions.
For instance, for Sane's goal against Stoke City, he quickly snatched the ball and by taking absolutely no time, put the ball into the box which split the defence. He plays close to 3.5 key passes every game, shoots atleast twice, completes successful dribbles many a time and barely ever gets dispossessed as he is so quick on the ball and to play his next move.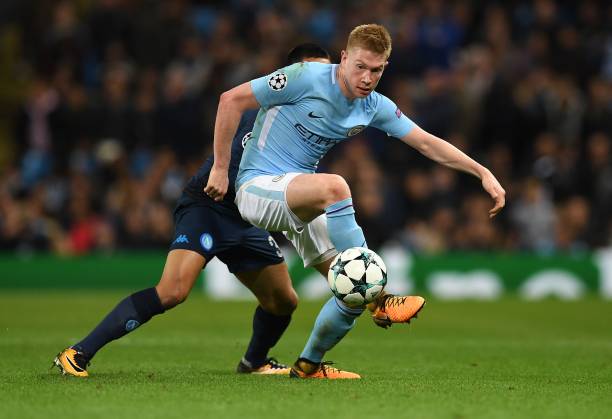 As he is seen operating from a deeper role and letting the wingers express themselves, he has improved the defensive part of his game too. He is an all-round-act, who looks to get better and better as the weeks go on.
Best in the league?
He is renowned as one of the best in the world. He does have competition in the Premier League from the likes of Cesc Fabregas, Mesut Ozil, Henrikh Mkhitaryan, Adam Lallana, Yohan Cabaye, Christian Eriksen and his own teammate, David Silva. But what makes him so special?
Firstly, his technique on the ball that sugar coats his dribbling, skill and ball control is above everyone in the league, arguably. He is young and takes no time to pick his pass, a quality that not every midfielder possesses. Hence, he is always one step ahead of the opposition players.
Next, he is not only efficient from a deeper role. He can jump on to the wings, overlap and feed in crosses. He can also play one-twos and get right into the middle, higher up the pitch. He can play all kinds of passes, from crosses to the one touch.
Lastly, the reason why he has looked a different player is due to the Pep's system. Pep always plays an anchor, who directs the play along with a shield (Fernandinho) who holds up the game and lets the others move on. He is given the chance to move things according to his game and express himself.
Hence, Kevin De Bruyne is about to become one of the hottest properties in world football, being the 'best playmaker in the league'. Do you think it is a tag he has earnt?