In what seemed like an inevitable decision, Bayern Munich finally chose to sack Carlo Ancelotti after just one and a half season with the club. The Italian was sacked from his role as head coach, following a mediocre start to the season, which got even more dreadful after a 3-0 defeat to PSG in the Champions League.
A number of possible replacements have been listed right after their sacking of Ancelotti on Friday. Names like Thomas Tuchel, Jurgen Klopp, Niko Kovac and Ralph Hassenhuttl have come into the fray. However, there is another coach who is highly regarded as one of the best replacements Bayern can possibly have.
Julian Nagelsmann – has been the epitome of the revolution of the young coaches that Germany has seen over the past few years. The 30-year-old manager, who saved Hoffenheim from relegation in the backend of the 2015-16 season before leading the club to an impressive 4th placed finish last season, despite having limited resources, is rumoured to be the possible candidate for Bayern, along with another young coach Thomas Tuchel.
But can Julian Nagelsmann become successful at Bayern – should he leave the Rhein Neckar Arena?
There's no doubt over his sensational coaching talent. Nagelsmann certainly has the aggressive mentality Bayern are known for. His impassioned footballing philosophy and tactical analogy drive Hoffenheim forward week in week out. He has shown glimpses of his proactive coaching methods in these past 12 months or so. He uses a giant TV screen during a training session to help improve his team's play with the help real-time video.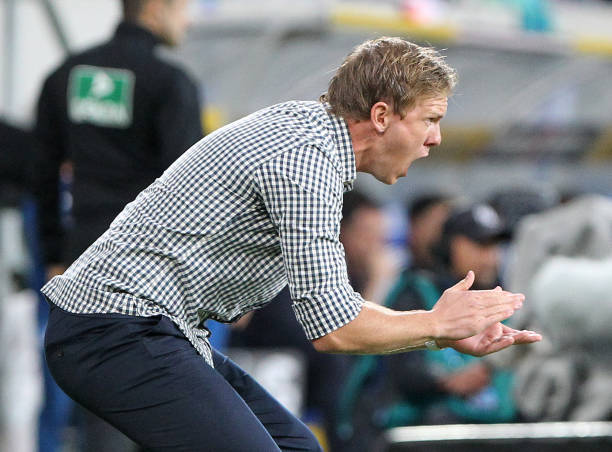 But it's his man-management qualities which are far more attractive than it normally seems. Nagelsmann has a great tactical nous but that's not to undermine his man-management and motivating skills. At Hoffenheim, he has transformed a bunch of baffled squadron to a unified whole, which is challenging Bayern and Dortmund at the top of the table.
Furthermore, Julian Nagelsmann has a far more emotional attachment to Munich than one would think. The young coach lived in Munich for many years, and he was born in Landsberg am Lech – a place not too far away from the city.
In an interview with Eurosport,  the 30-year-old didn't hide away his feelings about Bayern Munich either.
"Bayern Munich plays a big role in my dreams. I lived in Munich for many years. My wife and my kid will also move to Munich shortly. We're building a house there. It's our hometown.
"I'm very happy in life – however, Bayern Munich would make me even happier. But it does not mean that my life fortune totally depends on Bayern Munich." – he said. Thus, giving a hint on his willingness to join Bayern at some point of his career.
However, there are a few snags.
Given he is only 30 years young, whether or not will he be able to keep veterans like Arjen Robben, Franck Ribery in his control, is highly doubted – let alone some more world class players like Hummels, Boateng, and Lewandowski. Furthermore, appointing someone, who hardly had the taste of top-flight management for merely 18 months or so will be a huge gamble point of few.
Losses against Liverpool, Braga and Spartak and Ludogorets have already given a hint that Nagelsmann still has a lot to learn, especially in Europe. In the match against Liverpool, Jurgen Klopp always had Nagelsmann firmly in his grips, with his Hoffenheim not managing to outclass the sturdy and smart Liverpool team.
Besides, it's pretty much doubted if he'll join Bayern Munich in the first place. Nagelsmann is still bound to contract with Hoffenheim till 2019, and dumping his club midway through the season is not something which Nagelsmann would do. One would say, that the timing isn't quite right and had Bayern given more time for Ancelotti, they could have easily planned Nagelsmann's arrival at the club next summer. But for the moment, Thomas Tuchel seems like the best possible replacement for departing Ancelotti.
The former Dortmund manager will be keen to wrong his former club by finding success with their rivals Bayern.