According to Spanish news outlet, Mundo Deportivo, Barcelona are scouting AC Milan forward Andre Silva as they seek a long-term replacement for Luis Suarez. Barcelona director Robert Fernandez was spotted in the stands when Andre Silva contributed to a goal and an assist to Cristiano Ronaldo in Portugal's 2-0 win over Andorra recently.
Andre Silva is regarded as one of the hottest upcoming talents in world football. The Portuguese forward shares a stunning record with his national team, scoring ten goals in just 16 senior appearances, which shows just how good he can be.
Although he just moved to the Italian giants AC Milan this summer, a transfer to Barcelona next summer could make sense for the Catalan giants.
Luis Suarez hasn't been in the best of forms of late, starting the season on a bad note. The Uruguayan has scored just two goals in four matches, which is undermining for a player of his calibre. However, the greater problem for head coach Ernesto Valverde is the fact that the former Liverpool ace isn't getting any younger. At 30, Luis Suarez will have a year or two at his peak, before he starts deteriorating.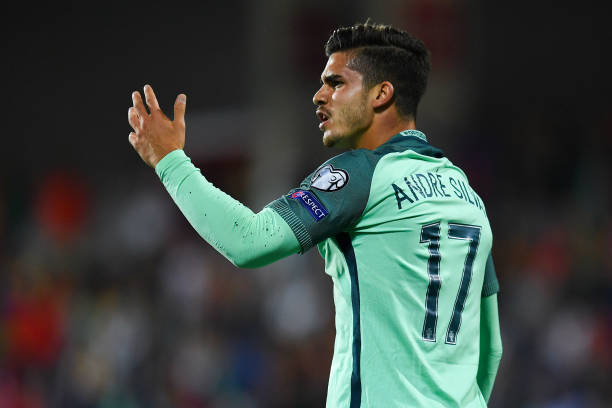 Therefore, the Catalan giants need to sign a proper long-term replacement for their Uruguayan hitman. Backup striker Paco Alcacer has also found life difficult in the Catalan district, which further signals the need of Andre Silva in Barca's squadron.
La Liga leaders Barcelona are known to embrace Portuguese players of late, with stars like Andre Gomes, Nelson Semedo moving to Blaugrana in recent seasons. Andre Silva could well be one to follow suit. Following a tough start to his career at AC Milan, the 21-year-old is finally starting to make an impact in Serie A, scoring an impressive six goals in nine matches.
Andre Silva epitomises the role of a complete striker. Standing at 185cm, Silva may not have the physical stature of a traditional centre-forward, but he still packs a punch in terms of physicality. The 21-year-old can easily shrug off defenders with his strength.
However, his ability to act much more than just a striker is what makes him a unique commodity in the current market. His physical prowess enables him to hold onto the ball for a long time, while he is also good at build-up play. Furthermore, he is also very good in possession and has incredible finishing traits, which are evidently reflected in his impressive goal-scoring tally.
Make no mistake, Andre Silva is perfectly suited for Barcelona's style of play. Not only can he successfully link up with the likes Lionel Messi, Iniesta and Ousmane Dembele but also has the notion to be in the right place at the right come. He is a prime example of a modern-day centre-forward, and signing him next summer should be no less than a priority for the Spanish giants.