Latest reports coming out of The Emirates claim that Arsenal boss Arsene Wenger is planning a move for Real Madrid star Karim Benzema. The 29-year old French forward has been long coveted by the Gunners boss but a move for the striker has never materialized.
Benzema signed for the Galacticos in the summer of 2009 for a fee of $50m on a six-year contract. Benzema has gone on to score 182 goals and register 104 assists in his 371 appearances for the club. He has won several trophies in the process including back to back Champions League trophies and was a part of the Real Madrid team which collected a record 100 points to win the La Liga in the 2011/12 season.
Arsenal's long-standing interest in the French ace has seen them linked with the forward on multiple occasions. The latest news comes on the back of the fact that Arsenal find Benzema to be an ideal replacement for their wantaway star Alexis Sanchez. The Chilean winger's contract runs out at the end of the current season and he is yet to sign an extension with the club.
It is reported that Real Madrid might be open to hearing offers for their French hitman given the fact that he is now 29 and has a decreasing market value.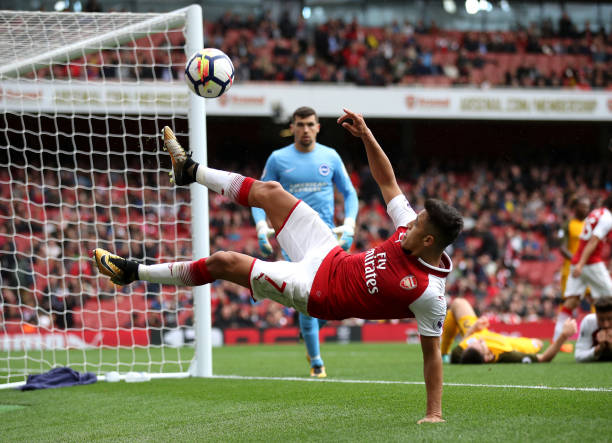 Sanchez was close to a move to Manchester City in the dying hours of the summer window but with Arsenal failing to find a suitable replacement, the move fell through.
With Alexis free to discuss terms with other clubs come January, Wenger will be getting desperate to sign a suitable player and Benzema's move would see the Gunners add a third French forward to their attacking line-up.
Although Benzema would not be a direct replacement for Sanchez, who unlike the French striker occupies the wing position, Karim's move to The Emirates will definitely add to the heavy attacking firepower already at Wenger's disposal.
Wenger will surely have to sell a couple of his strikers should Benzema opt to move, as it would be difficult for him to rotate five first team strikers in the same squad with Olivier Giroud and Lucas Perez, who is now out on loan, likely to be the ones heading for the exit door.
If Arsenal were to lose Sanchez next season, Benzema despite his goalscoring exploits, would not be the ideal replacement for the winger. Wenger would do better to search for a winger in the market especially because he already has Alexandre Lacazette, Olivier Giroud, Danny Welbeck and Lucas Perez vying for the number 9 role in the club.