Turkey's star player Arda Turan is reportedly set for a move away from Barcelona FC. Arsenal and Galatasaray are reportedly interested in his services. The 30-year old winger, who can also play as an attacking midfielder, has a contract that runs till 2020 but with first-team chances hard to come by, Turan is looking to secure a transfer to get more game time.
Turan, who made his move from Atletico Madrid back in 2015, has failed to nail down a regular starting spot at Nou Camp. Marred by injuries and the quality of Barcelona's then attacking line up in the form of Lionel Messi, Luis Suarez and Neymar; Turan was forced to play in a more withdrawn role, instead of playing in his natural left-wing position.
The change in setup did not help the Turkey international's game and he has fallen down the pecking order at the club. He has played a bit and part role so far at Nou Camp and is yet to make an appearance this season under Ernesto Valverde despite the departure of Neymar and the injury to Ousmane Dembele.
Such conditions at the club might force the 30-year old to move on and seek new pastures. Turan, who made his name for Turkish club Galatasaray rose into fame early. He was captain of the team back in 2009 at the tender of 21.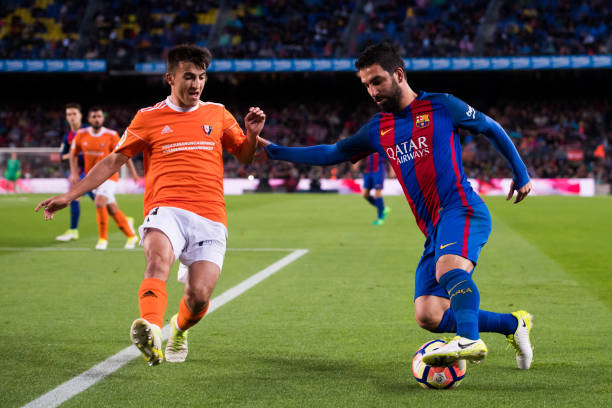 He made his move to Atletico Madrid in the summer of 2011 for a fee of €12m where he went on to become one of the best players for the club. He was ranked 38th in "The 100 Best Footballers in the World" by The Guardian in 2014 and nominated for the 40-man shortlist for the 2014 UEFA Team of the Year.
Turan also plays a vital role for his country and has made 99 appearances for them scoring 17 goals in the process.
On 6 July 2015, Barcelona announced the signing of Turan from Atlético for €34 million, plus €7 million in variables. The move that promised so much for the Turk, failed to transpire and Turan never really settled into a regular first team spot. Shifted down to adjust into a midfield three, Turan could not beat the competition from the likes of Iniesta, Serio Busquets, and Andre Gomes.
His move to Arsenal will see the 30-year old get a new breath of fresh air. Although he does not have another decade of career left, he certainly will be full of energy and eagerness to prove himself after his failed move to the Nou Camp. Moreover, with Alexis Sanchez yet to sign a new contract at the club, Turan might be the ideal fit for the vacated left-wing position, come January, for the Gunners.
Barcelona, who have not been really able to use the player, will not mind off loading him for decent money, something which the Gunners will have plenty of, should Sanchez move in January. So should they make a move for Turan?