Chelsea, the defending Premier League champions, are yet to find their feet this season following a scoreless draw against Arsenal and a disappointing 1-0 defeat to Manchester City at Stamford Bridge prior to the international break.
Although their away form has been excellent so far, which includes a sensational 2-1 victory over Atletico Madrid in their Champions League group stage encounter, the Blues also suffered a shocking 3-2 defeat in their opening weekend fixture against Burnley at home and are already six points behind the top spot of the league table after completion of seven game-weeks.
Conte, the Blues boss, has done a marvellous job in his debut Premier League campaign. The former Juventus and Azzurri boss guided Chelsea to reconquer the league title despite initial stumbles and his 'back three' formation transformed them majestically. He successfully implemented his philosophy within the team and the players responded well to his tactical strategy.
But a few things, however, have gone completely wrong so far for Conte despite enjoying a highly successful 2016-17 Premier League campaign.
The Costa Tussle
It all started with a training ground rift with star forward Diego Costa whom he axed from the squad and did not include in part of his future plans. Costa forced an egress and returned to his former side Atletico Madrid.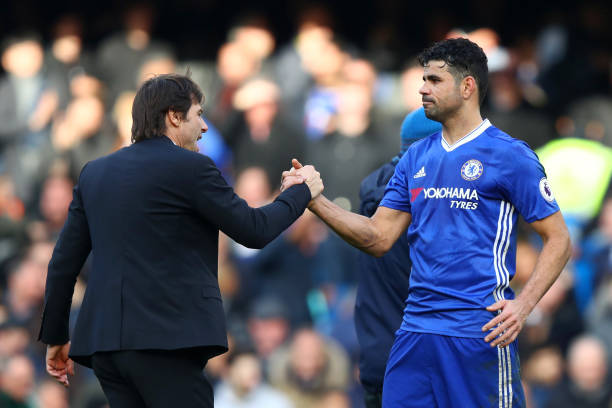 The Van Dijk Saga and A Prolonged Rejection List
Conte reportedly had a row with the management who failed to acquire centre-back Virgil Van Dijk as the Dutch international refused to join them in order to play under Jurgen Klopp at Liverpool ( the move did not materialize though due to Southampton's strong stance of keeping hold of their key defender despite handing in a transfer request).
Barring Van Dijk, a host of other professionals rejected Chelsea's offer and opted to ply their trades elsewhere. Alex Oxlade-Chamberlain joined Liverpool, Romelu Lukaku rejected his former club in order to reunite with Jose Mourinho at Manchester United,  veteran Spanish marksman Fernando Llorente preferred Tottenham Hotspur despite Chelsea's approach.
Ross Barkley decided to remain at Everton whereas Alex Sandro, the Brazilian fullback,  opted to continue with Serie A champions Juventus. Conte thus had to settle with the likes of Danny Drinkwater, Davide Zappacosta, Antonio Rudiger, Alvaro Morata and Tiemoue Bakayoko. Although Morata, Rudiger, and Bakayoko have impressed so far for their new outfit, Chelsea still lack the squad depth which might trouble them in a longer run.
Off-loading Nemanja Matic to Manchester United
The decision of letting Nemanja Matic leave surprised everyone. The Serbian midfield general was a massive influence in Chelsea's title triumph. But he has now joined league rivals Manchester United and has been exceptional for them so far in the middle of the park. The Red Devils are currently placed at top of the league table alongside local rivals Manchester City (who are ahead on goal difference) and acquiring Matic will be a massive influence if they manage to clinch the trophy next year.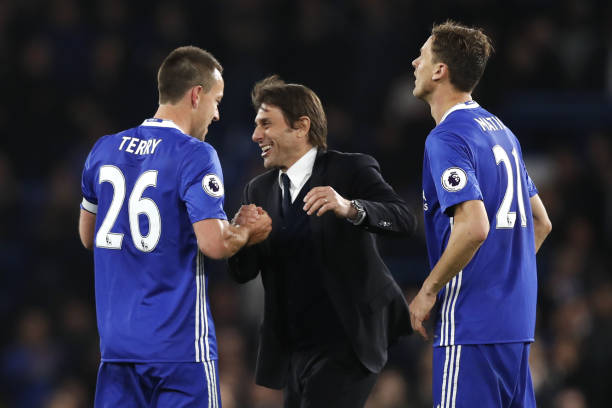 The Blues have replaced Matic with Frenchman Tiemoue Bakayoko following his Ligue 1 winning campaign with AS Monaco. He is a top young talent but nowhere close to the Serbian's presence and influence in midfield.
Failure of Promoting Youth
Chelsea are hailed for their academy set-up but has failed to provide youth with enough opportunities to flourish at senior level. Plenty of Chelsea rejects are performing sensationally elsewhere and the Blues are now failing to keep hold of their prodigies who are finding a way out. Englishman Dominic Solanke rejected a new deal and joined Liverpool on a Bosman transfer. Charlie Musonda, the Belgian youngster, has recently criticized Chelsea's flawed youth policy via an Instagram post. Conte was known for promoting youngsters but has not managed to do so since his switch to Premier League.
The season, however, has started only and Chelsea are still very much on track to rescue their season and sort out their limitations. But Conte's future might be jeopardized if they fail to deliver in this campaign and Chelsea might go through a state of transition from next term onwards.