Leicester City are having a tough time in the Premier League this season, with only one win in their bag so far. They scraped out another lacklustre draw against West Bromwich Albion in their last match, which pushed them further down the points table into the dreaded zone of relegation.
The Foxes are in absolute doldrums, having lost their manager Craig Shakespeare, who was sacked after the last match, following their dismal performance since the start of the season. The former Premier League champions will need to get their act together in their next match when they face Swansea City and try to claw their way back up the league table.
Here is how they might line up this weekend:
Defence
It has been a disappointing season so far for the Foxes in all their departments, including the defence. Experienced campaigners like Wes Morgan and Harry Maguire have done their best so far, but they have failed to contain the opposition strikers from scoring goals. The two full-backs, Danny Simpson and Christian Fuchs also need to perform out of their skins if they are to hold off the Swans.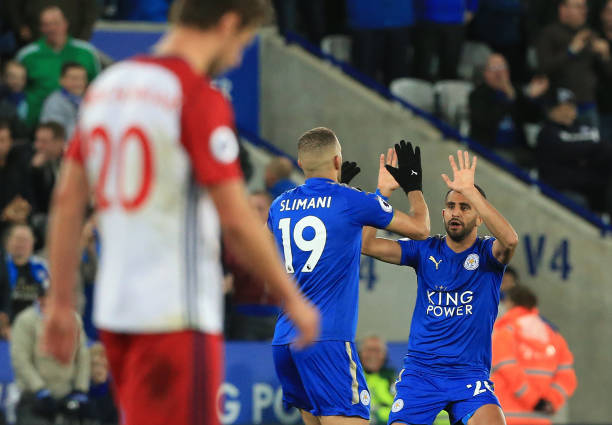 Their goalkeeper, Kasper Schmeichel will also need to make amends for his mistakes and lead his side to a much-needed victory in this tie.
Midfield
The Foxes have a number of top class midfielders in their side, led by the Algerian superstar Riyad Mahrez, who scored the equaliser to save the day for his side in their last match against the Baggies. He will need support from Vicente Iborra, Wilfred Ndidi and Mark Albrighton to make it a better outing for his side when they take on Swansea City, who have their morals boosted after the win in their last match against Huddersfield.
Attack
The Foxes have faltered in their progress this season so far and have failed to score goals against their opponents. New signing Kelechi Iheanacho, who played his sixth match of the season against West Brom, has not been able to score a single goal so far, which has undoubtedly been a detrimental factor for his side.
He, teaming up with their English ace Jamie Vardy, will have to play a very crucial role if they have to win their next match against the Swans.
Predicted lineup
Schmeichel, Simpson, Morgan, Maguire, Fuchs, Albrighton, Ndidi, Iborra, Mahrez, Vardy, Iheanacho.