With Vincent Janssen out on loan and his probability of playing again for Tottenham Hotspur quite low, Mauricio Pochettino is probably looking for a relatively young backup striker to Harry Kane.
Tottenham have a perfect candidate for that position in Hoffeinheim striker Mark Uth who is ready to let his contract run down which expires at the end of this season. Pochettino is said to be a huge fan of the 26-year-old and may look to make a move, should he be available in the next summer transfer window.
Despite having Fernando Llorente, Pochettino will be looking to add to his options in the long term. At 26 years of age, Mark Uth perfectly fits the bill of players Pochettino is looking to add to his team. After recruiting some young stars during the last few years, the manager would probably be looking for players who could hit the ground running.
Mark Uth who was formerly deployed as an attacking midfielder is now utilized as a centre-forward for Hoffenheim. Blessed with decent speed, the striker is a clinical finisher. Uth also has the ability to turn into attack quickly which will perfectly suit Spurs' play. Uth is also someone who can dribble, which can add yet another dimension to Tottenham's play as they currently don't possess anyone in particular in the attacking midfield who can run through a defence.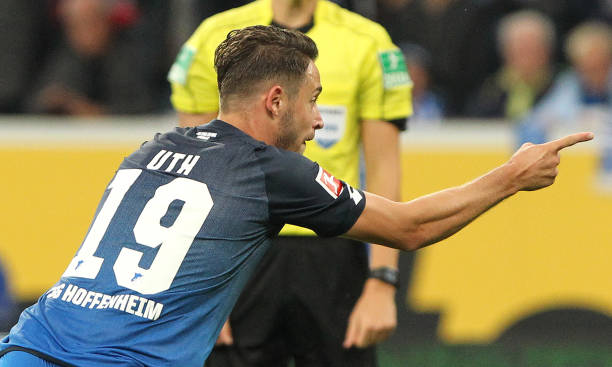 The striker has already scored six goals in all competitions, including two against Bayern Munich this season, giving Hoffenheim a 2-0 victory over the Bavarians which also put him on the list as a potential squad player for Germany for the 2018 world cup.
He could easily be rotated with Harry Kane to give the latter some rest with so many competitions to play in. Also with Heung Min Son's future uncertain, with a return to South Korea for a mandatory two-year training for military service, it makes sense to bring in someone who has a knack of scoring goals.
If his recent goal-scoring exploits are anything to go by, Spurs might as well quickly snatch him up at a rather low price in the January transfer window than wait for him to soar high and miss out on him against a bigger club.
Tottenham will have to move quickly if they want to acquire the German's services as Hoffenheim won't be short in terms of offers. The player is already said to have rejected a new offer and will probably be in search for a new club. Pochettino must exploit this opportunity and convince him of a move to Spurs.