Federico Chiesa is one of the hottest prospects in Italian football right now. The Fiorentina winger, son of former Serie A star, Enrico Chiesa is attracting a lot of interest from top clubs around Europe. While Inter is said to be close in the pursuit of the 19-year-old winger, Borussia Dortmund, Everton and a few Italian clubs are also vying for his signature. Even Liverpool is known to be a big admirer of Chiesa, who has been a vital part of Fiorentina this season.
Chiesa had his breakout season last campaign when he started appearing for his club, mostly as a substitute. By the end of the season, he bagged 1,494 minutes of Serie A action, quite an impressive tally for a 19-year-old. The club from Florence had to deny several transfer negotiations just to keep hold of their youth talent. Borussia Dortmund approached the 19-year-old as a replacement for departing Ousmane Dembele but were clearly told that he is not for sale, by his club.
However, as reports suggest, despite Fiorentina's initial wish to keep the player, Chiesa could be up for grabs in the transfer market soon enough as the attraction from several top clubs in Europe seemingly increases. Amongst all these transfer speculations, Liverpool are also hopeful for the signature of the Italian youth talent.
But does it make any sense for the club to sign the highly rated winger?
Chiesa has shown himself to be very fast and a versatile winger in the Serie A. He is utilized as a right winger by head coach Paulo Sousa. Having a great deal of skillset, Chiesa has already shown glimpses of his offensive prowess in his early days with Fiorentina. He has the ability to read the situation and act according to the circumstances, Chiesa plays like someone far beyond his age. Extremely mature and energetic, he is also a great technical outlet for his side, and can be settled into any playing style.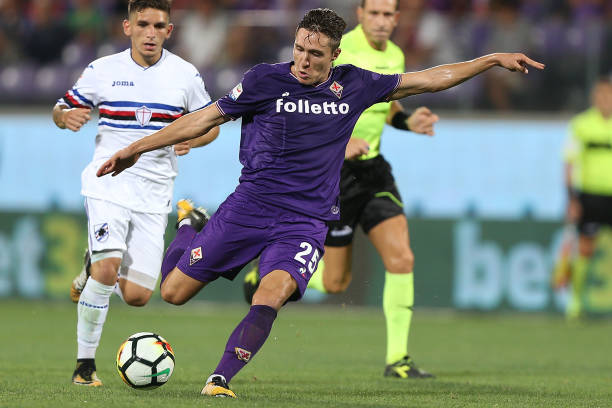 Liverpool already have a flux of great wingers in the squad this season. The addition of Mohamed Salah has significantly increased the club's offence. Players like Sadio Mane, Roberto Firmino, Mohamed Salah and Adam Lallana already play an important role in their offence, so the addition of another winger seems a bit impractical as of now.
However, Philipe Coutinho is widely expected to leave the club next summer, and that's when Chiesa come into the fold. Liverpool were scouring the transfer market for an able replacement of Coutinho this summer but failed to find one, and instead, they had to do their best to keep the Brazilian in the team. But it won't be the same case next summer, and the Reds need to identify a proper replacement for the attacker.
Federico Chiesa might be a winger, but early performances this season has shown that Liverpool hardly needs a presence of any central attacking midfielder whilst using the 4-3-3 formation. Therefore, it really doesn't matter if Chiesa doesn't play in the CAM position. Considering his fiery form with Fiorentina, Chiesa has every right to hailed as the Coutinho replacement.
However, there are always risks signing a player with so little exposure of the top flight football, better yet it be Federico Chiesa, who just played 29 matches for the Violas, scoring only three goals. That's not to say, he is not a great talent, but given the set of interests for the 19-year-old, Fiorentina is expected to ask no less than 40m euros for the winger.
40 million euros for a 19-year-old winger might just be too much of a gamble for Liverpool and thus, they are better advised not to consider signing Chiesa just yet. After all, he is not the only one, who has a great deal of potential about him. Christian Pulisic of Borussia Dortmund is another hot prospect in world football at the moment, and the American also confirmed that he will start to consider offers after the World Cup next year.