Newcastle United are a side which are undergoing a period of transition under the tutelage of Rafael Benitez. The Magpies earned a promotion from the Championship after their stellar displays in the English second division last season and after a couple of defeats in their first two outings, things have evidently started to fall in place, considering that they have now collected 6 points from the 4 games they have played, owing to their win against West Ham United and Swansea City.
One of the players who dazzled during the promotional campaign for the Toon last term was Dwight Gayle. The 26-year-old smashed 22 goals in 31 games, apart from creating 25 chances and led the attacking arsenal of Benitez's outfit in a pretty productive manner.
However, Gayle's recurring hamstring injury proved to be a headache for the former Napoli boss more often than not and no wonder why the gaffer roped in Joselu from Stoke City during the summer transfer window.
Fulham were keen to make Gayle sign on the dotted line during the transfer window as Benitez also looked keen to generate some funds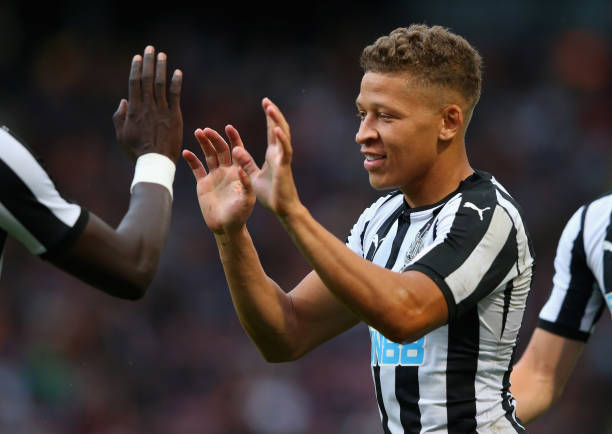 The deal failed to cross the line but reports have emerged lately that the Cottagers are lining up an audacious bid to prise the striker out of St. James' Park during the summer transfer window. Having helped the Geordies in earning the uplift, would it make sense for him to make a switch instead of proving his mettle in against the elite clubs of the country?
Thus, it is implied that the Englishman has four months now to make his presence felt. In 3 appearances that he has been handed so far this season in the Premier League, he has failed to find the back of the net and his record in this league hasn't been spectacular either.
Gayle scored just 15 goals in 64 appearances for Crystal Palace and considering Benitez's apparent lack of trust in him, he needs to hit the ground up and running from here on.
Gayle does have the calibre to do so, for he has the requisite pace in his legs to blast past defenders and is exceptionally clinical up front. Besides, he connects well with his teammates in the final third and his predatory instincts are quite appealing as well. There exists very little doubt regarding the pedigree of the Arsenal youth product in the Championship and it is about time for him to do the same in the top flight.
Statistics Credits: Squawka.com