Despite a quite underwhelming display, Barcelona managed to take all three points with a solitary goal against Portuguese outfit Sporting Lisbon. The Catalan kept probing in the first half with some intricate plays but went into the halftime with a 0-0 scoreline.
They then managed to gain the lead via a free-kick from Lionel Messi which somehow ended up in the back of the net after the Sporting defenders failed to deal with the threat properly. Barcelona then managed to hold on to the slim lead despite quite a lot of pressure from Sporting. Below are the player ratings for the La Liga outfit.:
Ter Stegen:
Rating: 7
On a night where he pretty little to do, Ter Stegen was forced into making an excellent save to deny Fernandes towards the end of the game.
Nelson Semedo:
Rating: 6.5
Semedo made a number of tackles and clearances. He remained quite tight to Sporting midfielders.
Gerard Pique:
Rating: 6.5
He was quite naive in his decision-making in the first half, pulling shirt when he was undone by a good turn on two different occasions. His performance improved in the second half.
Samuel Umtiti:
Rating: 7.5
Another excellent performance from Umtiti as he made some vital blocks and interceptions. Despite pressure from the Sporting attackers, he calmly played the ball out to his teammates.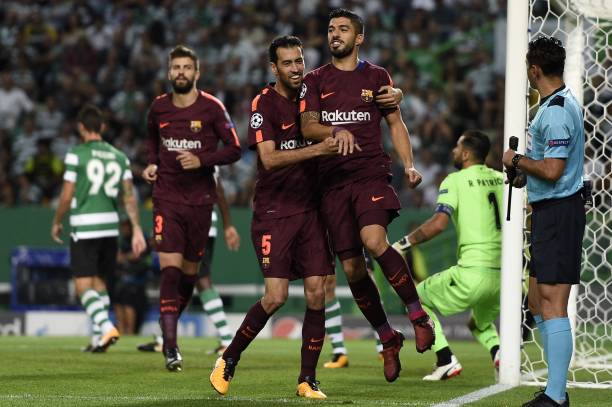 Jordi Alba:
Rating: 7.5
Alba got on the overlap on a number of occasions. He made a lot of good runs down the left for Barcelona.
Sergio Busquets:
Rating: 7.5
Busquet read several passes and made a few important interceptions. On three occasions, he delivered long through balls to the front three as soon as he had the possession of the ball, catching Sporting off-guard.
Ivan Rakitic:
Rating: 6.5
Rakitic wasn't as influential as he usually is and wasn't as involved with the front three as he usually is. He misplaced quite a few passes.
Sergi Roberto:
Rating: 7
Roberto made runs through the ball and played some really good improvised passes, exchanging good one-touches with the likes of Messi and Iniesta.
Andres Iniesta:
Rating: 8
Iniesta was excellent once again and threaded quite a lot of through balls and often dribbled himself out of trouble on a number of occasions. He built up the play quite well, exchanging intricate passes with the teammates.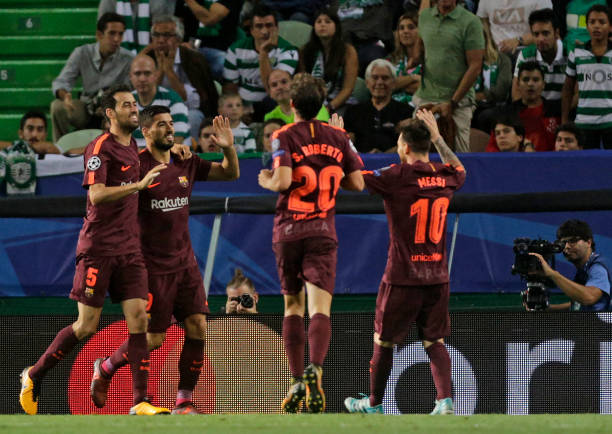 Luis Suarez:
Rating: 7.5
Despite some really good movement off the ball, Suarez wasted two really good chances. His awareness and improvisation was excellent.
Lionel Messi:
Rating: 8.5
Despite not being at his usual best, Messi delivered an excellent delivery which ended up in the opposition's net. All of his deliveries troubled the Sporting defenders.
Substitutes:
Paulinho:
Rating: 5
Paulinho missed a really good opportunity towards the end of the game.
Andre Gomes:
Rating: N/A
Gomes played too little to warrant a rating.
Aleix Vidal:
Vidal played too little to warrant a rating.