The midweek's win over Belarussian giants BATE Borisov gave Arsenal much more than just three points. With the weekend's match against Brighton in mind, Arsene Wenger mostly fielded a young squad along with a few experienced guys in the Europa League fixture. Amongst them included former Arsenal midfield prodigy Jack Wilshere.
The 25-year-old English midfielder, who was once considered 'once-in-a-generation-talent' by the fans and experts alike. So much, that even Pep Guardiola only had nice things to say about the talented midfielder. However, since then, Wilshere's journey as a footballer hasn't gone exactly as he had hoped for.
He had his career decimated by a number of frequent injuries which kept him out for the most part of his footballing career. Quite understandably, it significantly affected his qualities on the pitch and hindered his progress as a footballer. It came until a point when even Arsene Wenger grew tired of his relentless spells on the sidelines and decided to loan him out to Bournemouth right at the start of last season.
At Bournemouth, his progress started to take a downward trend. Almost being written off from the Arsenal plans, Wilshere came back at the Emirates this season. Just when it seemed like his future with the London based club was almost over, the midfielder made full use of his opportunity to redeem himself as a top-drawer midfield, despite all his injury troubles.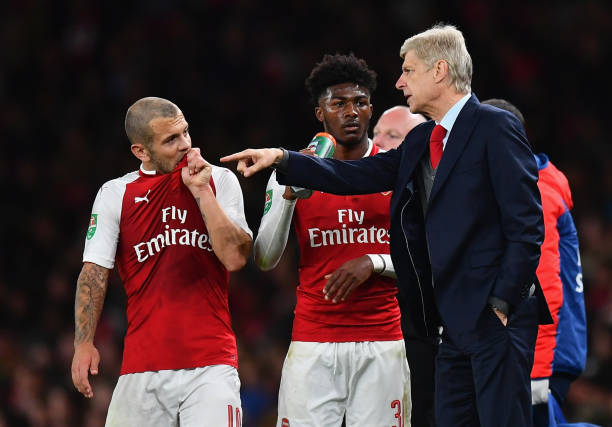 Wilshere made quite an impact against BATE. Not only did he manage to successfully facilitate the entire central area of the pitch, his seven dribbles – most by any player on the field – showed that he still boasts the same dynamism he had some three years ago.
Following his excellent outing in the Europa League, Jack Wilshere believes he is "back" and is setting his sights on earning an extension to his Arsenal contract. He also believes that his career at the Emirates was written off too soon by fans and media.
However, it seems kind of naive to draw judgments from his performances against BATE Borisov. With all the due respect, the Belurussian champions come nowhere close to most Premier League sides in terms of quality. However, it may propel Wilshere's confidence and also influence Arsene Wenger to recall him in Premier League games.
Arsenal fans should be optimistic about their chances of having the old Wilshere back. It's highly unlikely that he'll feature in the weekend game against Brighton but he may well take his chances in the upcoming games in October and the upcoming International break will help him gain his fitness levels and finally compete for a place in the starting lineup.
Make no mistake, these final few months left before the New Year will decide Wilshere's fate with Arsenal. If he can keep his performance nose-dive intact, Arsenal will look to renew his contract at once. Especially with star players such as Mesut Ozil and Alexis Sanchez constantly rumoured to be leaving the club next summer. It's beyond doubt that Arsenal fans will embrace the return of their 'lost son' with open arms, should he manage to get back to his old self.