Jose Mourinho is losing respect by the day. The Portuguese manager is easily one of the most decorated managers in the game at the moment, but in almost every interview he gives, he brings out a controversy. It may be true that the English media look to him to fill up pages. It may be true that they criticise the Manchester United manager far too often.
However, if he continues to attack the media and the way they go on about covering the sport, he is only going to get into more trouble. Not so long ago, Mourinho went on a rant claiming that he is the only manager in the Premier League at the moment, to lift the title on three different occasions. While that is entirely true and deserving of a lot of respect and accolade, the way Mourinho went on, using it as an excuse to the current performances by his club, shows that he is indeed losing the plot. Also, not to mention the hypocrisy of waiting till Arsene Wenger is no longer in charge at Arsenal to make this statement. After all, Wenger was also a 'three-time' Premier League winner when Jose Mourinho called him a 'specialist in failure'. How times change.
United have lost two of their four league games this season and are already behind the likes of Liverpool and Manchester City in the race to the league title. They have been far from convincing in either of the two victories this season, and it is evident that they need to improve vastly if they are to win anything this season.
Mourinho's rant was right after two back to back losses, and boasting about past accolades did not divert the attention away from him. Most people would stay out of the limelight in such situations, but Mourinho is not your average manager.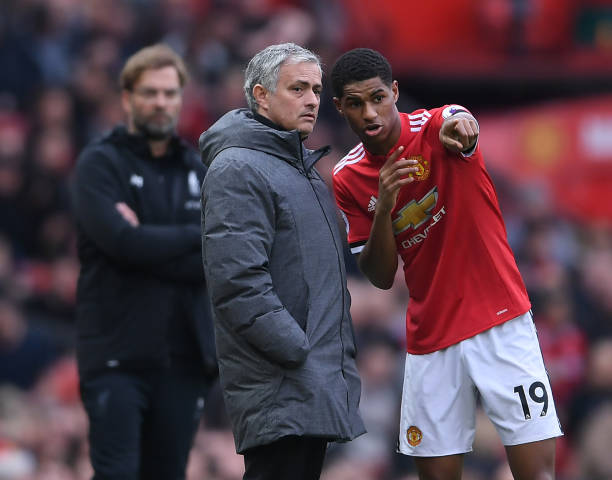 He took the opportunity this week to attack the media, as he prepared a full sheet of statistics, to prove the point of a pundit wrong. Liverpool legend Jamie Carragher recently said that English international Marcus Rashford should quit Old Trafford to become a real star in the game. Mourinho seemed not too happy with those comments and was prepared to tackle it, in his latest press conference.
He claimed that the media were obsessed with him and that he would probably be criticised for not selecting Rashford this weekend, even as the attacker is not fit to play. He went on to claim that he has offered the youngster more first-team minutes than most top clubs in the Premier League provide their youth products.
Mourinho read from the sheet: "On the season 16-17 Marcus Rashford played 32 Premier League matches, 11 Europa League matches, including the final, three FA Cup matches, six League Cup matches including the final and the Community Shield. He had 53 appearances but if you want to take to the minutes of play, he played 3,068 and if you want to divide that by 90 minutes of the matches, he played 34.2 matches of 90 minutes.
"In 17-18, he played 35 Premier League matches, eight in Champions League, five in FA Cup including the final, three League Cup matches and the European Super Cup final. He played a total of 52 matches with 2,676 minutes, if you divide that by 90, it gives 29.7 matches, so with me, in two seasons, he had 105 appearances, 5,744 minutes, 63.7 matches of 90 minutes, including five finals, so the people that is speaking about these minutes, I think they are a bit confused," he added.
While all those numbers are correct, it makes no sense for the manager to bring them out, especially before a game in which the player will not even be involved. It is not the ideal way to set up your team for a crucial match and Mourinho is missing a trick far too often this season.
He is quick to throw his players under the bus, so it is good to see proof that he is ready to trust youngsters. But the latest dig he took at the media, will only come back to haunt him. He has the personality to take up such feuds, but at the moment, it is vital for him to get the best out of his team. Putting them under the scanner, in front of the camera will do no good for anyone involved.
He may be criticized unfairly at times, but it is better to answer such critics on the field, than in a room filled with microphones. After all, he does not want to get close to Donald Trump levels of accusing the media of not covering him fairly. Believe it or not, the news is NOT fake news, and no one has an agenda here.
Disclaimer: This is an opinion piece and the views reflected here are NOT that of The 4th Official staff. 
The following two tabs change content below.
Aakarsh Bommakanti
Was diving around lush green grass not so long ago but my keyboard is all I have now. An avid observer of detail in sports with a passion to make myself heard. Can find me playing on a field if not in front of my screen.
Latest posts by Aakarsh Bommakanti (see all)