For all the money Liverpool spent in the summer, they failed to land a central defender. It was widely believed that the decision to not sign a centre-back could come back to haunt them this summer. And sure enough, their issues were compounded with Croatian international Dejan Lovren, coming back to the squad with a stomach bug.
Lovren is yet to be back in training and could miss most of the games this month. The Reds also got rid of Ragnar Klavan before the end of the window, but four games into the season, they now stand as the best defensive unit in the division. So how did they pull it off?
While the commanding Virgil van Dijk has been exceptional, it is the rise of Joe Gomez that has helped the Reds start of the season on a strong note. Liverpool have conceded just one goal so far this season, that coming from a mistake from Alisson Becker, their new goalkeeper. Van Dijk was crucial in registering those numbers and was also named the player of the month for the club recently.
But it is Gomez who has shown great composure and temperament at the back, helping the Reds lay strong foundations to beat teams home and away. At the moment, Liverpool's backline practically picks itself but does that mean that Lovren's time in the first team is done and dusted? Are the days of his inconsistency no longer an issue for the Reds?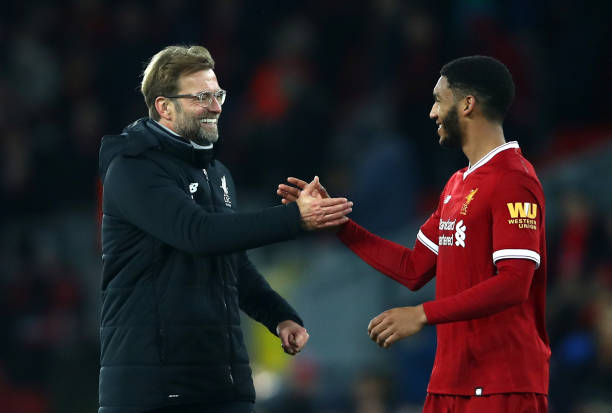 At just 21, Gomez has already gained lots of experience, albeit playing in a right-back role. He is a strong and confident player, who will only become better, playing alongside Van Dijk. He is also helped by Klopp's system, which allows him to play without any restrictions. He has hardly put a foot wrong this season so far and deserves to keep his place in the first team over Lovren at the moment.
However, the English youngster, who is also an essential part of his national side now, has minimal experience on the European stage. He made six starts in all for the Reds in the Champions League and playing as a centre-back in such crunch games is an entirely different challenge.
It is clear that Klopp prefers Gomez over Joel Matip. The fact that Lovren would not be fit for Liverpool's group stage game against PSG next week will mean that Gomez would make his debut as a CB for the club in the Champions League, in one of the toughest games for them this season.
If he comes out of that game without much damage, he would only polish his reputation, pushing Lovren further down the pecking order by the game. He does have a few frailties in his game but playing regularly at the highest level is the best way for him to get rid of them. So unless he loses form drastically, Joe Gomez is now the first choice defender at Liverpool, leaving Dejan Lovren fighting for a place in the first team.
The following two tabs change content below.
Aakarsh Bommakanti
Was diving around lush green grass not so long ago but my keyboard is all I have now. An avid observer of detail in sports with a passion to make myself heard. Can find me playing on a field if not in front of my screen.
Latest posts by Aakarsh Bommakanti (see all)