With four goals, four assists and 25 key passes between them, Arsenal's strike duo will give many defenders in the league nightmares. The Gunners signed two of the most prolific strikers in Europe in Pierre Emerick-Aubameyang and Alexandre Lacazette, in the last three transfer window, even before Unai Emery's arrival. The system under the new manager does not work well with two up front in any variations of the 4-4-2 system. So it was not a surprise that many believed that one of them might be underused this season by the former Sevilla manager.
In the first few games, it looked like Lacazette would be the unlucky one but the French striker put in some impressive performances off the bench that made Unai Emery re-think the entire situation. Pierre Emerick-Aubameyang is a player that cannot be left on the bench, so the manager decided to use the Gabon international on the left wing, giving Lacazette the chance to attack from the middle.
It is a decision that could have easily backfired. Instead, Arsenal now seems to have one of the most dangerous attacks in the league. It might not be his best position, but Aubameyang has shown that he can utilise the space on the flank and create problems for full-backs and defenders. This also allows Lacazette to take up goal-scoring positions, all of which has helped Arsenal score 12 league goals in their first six games. But will this system work for long?
Mesut Ozil has been below-par but remains one of the best playmakers in the league. In a no.10 role, he is as dangerous as anyone on his day and having Henrikh Mkhitaryan alongside him, on the right wing, only makes their attack all the more dangerous. However, this set-up is devoid of natural wingers, who are happy to take on full-backs, leaving Arsenal attacking centrally far too often.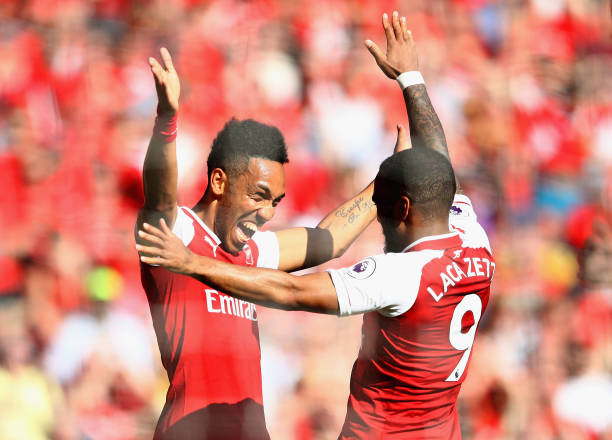 Nacho Monreal is not a naturally attacking full-back while Aubameyang would often look to cut-in, and understandably so, given his strengths inside the box. So the left side of the Arsenal attack, though potent, can let them down on occasions. Against teams that sit back and defend deep, the Gunners will not only struggle to get beyond packs of defenders centrally but will also fail to get behind the backline, which would restrict their creativity.
Alex Iwobi is the only player who can play as a winger in the current squad. It is an issue Emery should address in the future, but at the moment, Arsenal are using a system that will face lots of difficulties against sides with a tactical approach.
They have the quality to outscore opponents and may continue winning games but Emery's squad is by no means ready to test the biggest teams in the competition, and he might be forced to change this approach in the business end of the season.