After a 10th placed finish in the Premier League last season, it is quite evident that Rafa Benitez has some serious plans for progress at St James' Park next season. The Spaniard is desperate to add some quality to his first team and continues to be linked with some of the finest stars in the country. But one player they are now close to landing is Salomon Rondon.
The Venezuelan international spent time in Spain and Russia before moving to England with West Brom back in 2015. He scored 10 goals in his first season at the club, establishing himself as the first choice striker at the Hawthorns. He played 37 league games the season before the last and did the same again last season, where he registered seven goals and three assists in the domestic league.
However, he failed to find enough consistency to keep the Baggies in the top flight for another season and as a result, his wages have now dropped from £75,000-a-week to £40,000-a-week. He has been the main goal scorer for the club in the last three seasons, but Darren Moore, the current manager at West Brom, is happy to let him leave this summer.
A hard-working centre-forward, whose productivity depends on his confidence, Rondon is a natural finisher, who loves to play on the shoulder of the final defender. He is adept at playing as a target-man but is at his best with the ball at his feet in dangerous areas. He is quick to find space in the final third and test the keeper but is also aware of passing options in dangerous areas.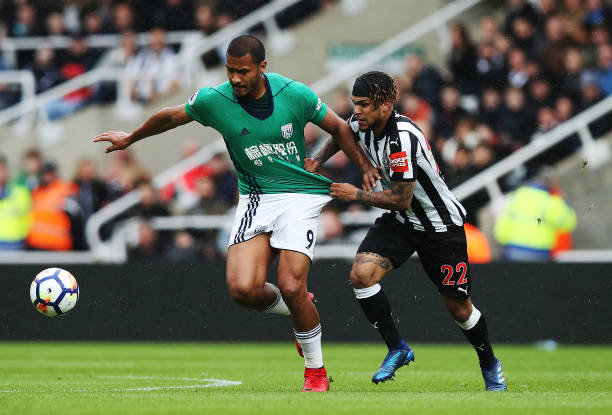 The 28-year old can drop deep and help in build-up play and has the decent vision to create chances in the final third. He can find the back of the net from various angles and ranges and his record of 24 goals and 8 assists in 108 Premier League appearances does not tell the complete story.
He also has 66 appearances for his national side and is an established star and will be a decent addition for the squad at St James' Park. It is understood that the Magpies have offered £4m now to take him on a loan deal and then a further £15m next summer, to make his move permanent.
Read More: Manchester City Look To Offload Youngster On Newcastle United Radar: Good Fit For Benitez?
West Brom boss Moore is already looking at Middlesbrough star Britt Assombalonga as a replacement, leaving Newcastle United free to sign Rondon. At his age, the striker can be an asset for the club for years to come and a decent acquisition this summer.