Tottenham Hotspur have not been too active in the transfer market this summer but the club has laid a real importance on retaining crucial members of the squad this summer. They have already signed Mauricio Pochettino and Harry Kane on new long-term deals and have now announced that South-Korean winger Heung-Min Son has joined the list.
The 26-year old moved to London in 2015 and scored eight goals in his first season at the club, showing versatility on the wing. He soon became a favourite for Pochettino, as he played in 34 league games the season before the last, scoring 12 goals in all competitions and in 37 league games last season, he registered 12 goals and six assists for his side.
He was a crucial part of the South Korea side that beat Germany in the group stages of the 2018 FIFA World Cup in Russia but they failed to move to the knockout phase, leaving Son with tears in his eye. However, he remains an integral part of Pochettino's plans for the near future and Spurs have done well to tie him down on a new five-year deal.
Capable of playing on either wing, Son is a busy player, happy to hunt down defenders until the last minute. He is full of energy and can create chances galore from the wings. He is a smart dribbler and though, he loses the ball at times, he is capable of producing moments of magic to win games for his side.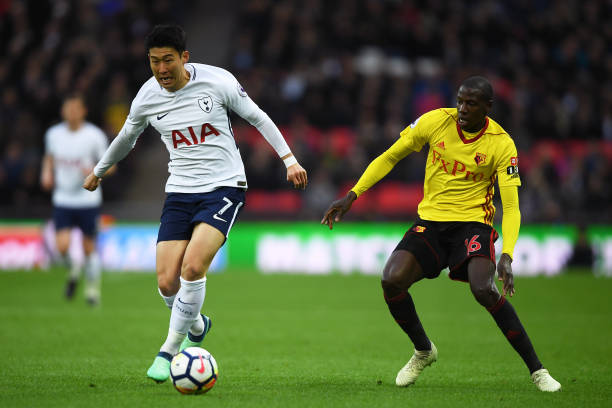 Pochettino's biggest issue at the club is a backup for Harry Kane in the striker's role and Son seems to be the best solution for the manager at the moment. Neither Vincent Janssen nor Fernando Llorente have made an impact on the first team and the South Korean international has four goals when starting as a centre-forward for the club last season.
At just 26, he still has to hit his peak as a footballer and his new deal will make sure he will spend that time at White Hart Lane. He was recently linked with a move away from the club with Arsenal and Liverpool interested in his services but Pochettino is not having any of it and has retained him for his best years.
The 26-year old will, however, miss the start of the league campaign, as he will be on international duty at the Asian Games. Son needs to win gold to avoid a 23-month mandatory military service rule, that South-Koreans are bound to. If he fails to win in those games, Spurs will lose him for a couple of years.
Read More: Tottenham Hotspur Face Setback In Pursuit Of Eredivisie Defender: 3 Replacements Including This PL Ace!
However, South Korea are one of the strongest sides in the competition and Spurs will hope that they will have Son playing for them in no time.