Mauricio Pochettino has a unique recruitment system and is usually ready to wait for transfer targets that fit into that system. One such player, the Argentine manager has been patient in trying to land is Jack Grealish.
The England U21 international, who represented Ireland until the U21 levels, rose through the ranks of Aston Villa, truly establishing himself in the Championship, in the 2016-17 season. Aston Villa had just dropped down to the second tier and were losing star players, left and right. They needed someone to step up from their own ranks and Grealish duly obliged.
He found himself playing in an advanced role in the midfield, as he registered five goals and five assists in 31 league appearances. He showed a distinctive range of skill and technique, gliding past opponents with ease and creating chances galore. And last season, Steve Bruce found the right role for him, using him just inside the winger in a 4-1-4-1 system.
Grealish constantly had players to pass to, helping him build more and more confidence. He is a gifted technician, who loves to have the ball at his feet. He can fire crosses in and is effective in switching play in the final third. But what makes him dangerous is his vision and the ability to execute the toughest of passes with relative ease.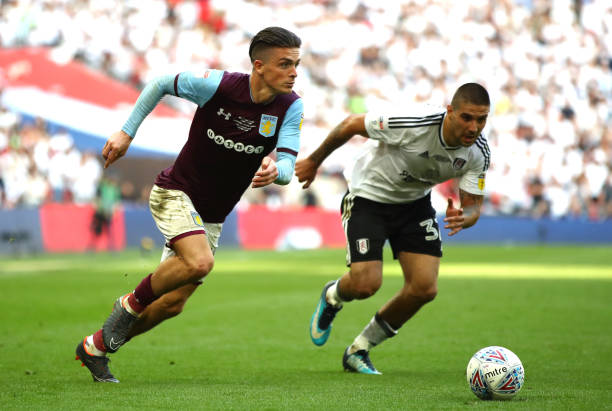 He is also tenacious with his defensive duties, happy to bring down players and slow up play. He makes crucial interceptions and is ready to do the dirty work in the middle of the park, making him a manager's dream. At just 22, he is already tagged as one of the brightest prospects in the Championship and it might be time for him to take a step up to the next level.
Steve Bruce is not too keen on selling Grealish and initially slapped a price tag of £40m for him this summer. Tottenham Hotspur were one of the first clubs who registered an interest in the playmaker but Jurgen Klopp's Liverpool have also been linked with a move.
However, with the Villains now needing to raise funds to even take players on loan, the manager is forced to sell his star player, at almost half the price. Reports suggest that Tottenham Hotspur are prepared to offer up to £15m, but for his potential, Grealish will be a decent coup, even at £20m.
Read More: Tottenham Hotspur Vying For A Loan Move For Barcelona Defensive Beast: Right Man For Pochettino?
Villa will probably sell at that price so Spurs should not wait for other clubs to join the race and should get this deal done quickly.
The following two tabs change content below.
Aakarsh Bommakanti
Was diving around lush green grass not so long ago but my keyboard is all I have now. An avid observer of detail in sports with a passion to make myself heard. Can find me playing on a field if not in front of my screen.
Latest posts by Aakarsh Bommakanti (see all)