Tottenham Hotspur are yet to add any fresh faces to their squad from the previous season. Mauricio Pochettino, who is yet to win any trophy in his time at White Hart Lane, is desperate to add some quality to his first team but is yet to make his first signing of the summer.
The Argentine has a unique recruitment policy, that has seen him scout for particular stars that can make an impact on the squad next season. One such player they are now favourites to land is Aston Villa star, Jack Grealish.
The Birmingham born playmaker joined Villa's academy as a six-year-old and took his time to break into the first team. He made his debut for the senior side in 2014 and has been a regular in the first team ever since. He registered three goals and six assists in just 22 Championship starts last season and also helped Villa get close to a place in the Premier League.
At just 23, Grealish has shown great maturity in even the toughest of games recently. He is a gifted footballer, who is confident and creative with the ball at his feet. He can play anywhere in the attack, can dribble past opponents and provide through balls, breaking defences with ease.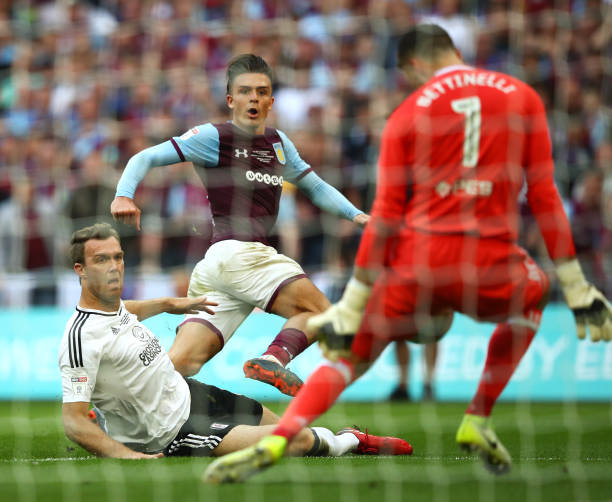 He can also test the keeper from long-range, is strong in his hold up play and is perfect for the English game. He does have to work on his defensive discipline but Grealish remains one of the most exciting players in his role in England at the moment.
Aston Villa's financial restrictions were eased a bit after the £30m takeover of the club by Egyptian owners earlier this week. It is reported that Villa may yet retain Grealish but Spurs remain firm favourites to land him this summer.
The youngster is valued at over £30m and the likes of Crystal Palace and Fulham have also joined the race for his signature. However, Spurs can offer Champions League football and a better chance to break into the Three Lions squad and it is understood that Grealish has his heart set on a move to White Hart Lane.
Read More: Manchester United Unwilling To Let Go Of Striker Amidst Tottenham Hotspur Interest: Big Blow For Spurs?
At just 23, he ticks all the boxes in Pochettino's recruitment model and though he will have to fight for a place in the first team with the likes of Dele Alli and Christian Eriksen, yet he is a player who will definitely make an impact in the Premier League. He has shown last season that he is ready for a step up in his career and playing alongside some of the best youngsters in the country, under a coach like Pochettino, is the best way forward for the playmaker at the moment.