Villa Park has a new owner! Aston Villa is no longer controlled by Chinese billionaire Dr Tony Xia. Egyptian multi-billionaire Nassef Sawiris has earlier this week, bought 55% of the shares in Aston Villa football club and they will be in charge of the transfer dealing for the rest of the summer.
Sawiris and Fortress Investment Group co-founder Wes Edens are the new Aston Villa owners and reports now suggest that they are set to bid Steve Bruce adieu this summer. According to several reports, Steven Bruce was kept in the dark about the transfer dealings so far this summer and he will probably be shown the exit door, with Sawiris already pin-pointing his successor.
In a story that has brought smiles to the faces of a number of Villa fans, former Arsenal legend Thierry Henry is now linked with a move back to England, but this time as a manager. The Frenchman recently quit his job as a pundit for Sky Sports, claiming that he now wants to jump fulfil his ambitions as a manager.
He was almost off to an unbelievable start as a coach, as he almost took Belgium to the World Cup final in Russia, where he was acting as the striker's coach for the Roberto Martinez's side. It is now understood that he is open to taking over Aston Villa, but is that the right move by the new owners?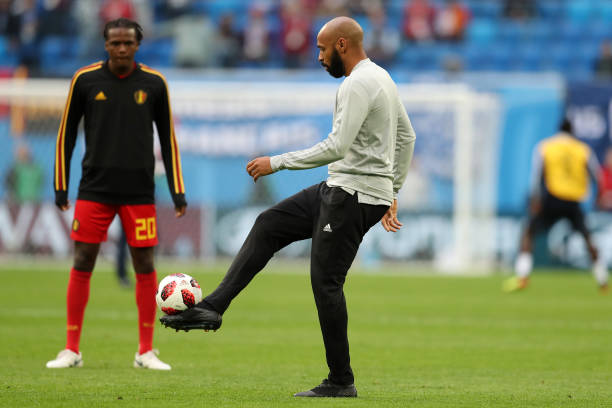 The issues at Aston Villa go beyond the manager. Steve Bruce has been at the club since 2016 and has a win ratio of 47.2%, which is up there with the best in the competitions in the last two seasons. He came close to taking the club to the Premier League, only to lose out to Fulham, in spite of the financial restrictions that club has faced in the last two summers.
The lack of progress will now see Villa sell a few players to comply with FFP rules, and the new owners do not have a way around it. So the spending power for Villa does not improve drastically, even with the richest Egyptian on the planet as their owner. But signing Henry will be a huge statement, albeit with the Frenchman making his debut as a manager at Villa Park.
Read More: 3 Replacements For 33 Y/O Experienced Australian At Aston Villa Including This Former Sunderland Ace!
Aston Villa can still search for an established manager but if Sawiris decides to bring Henry in, it might be the start of a new era at Villa Park. Signing Henry will be a huge statement by the new owners, and it might also help the club attract top-class talent this summer, even with just a couple of weeks left of the transfer market.