After a less than impressive top-flight campaign in England, Arsenal decided to finally replace Arsene Wenger after 22 years and they took very little time to find a successor in Unai Emery. The former PSG boss has already started stamping his authority on the squad at the Emirates and has made a number of additions to his side from the previous season.
However, he looks determined to add a few more star names to his side to help him compete for silverware next season. This has seen Arsenal scout for some of the most exciting stars in Europe at the moment but one player the continues to be linked with a move to the club is Steven Nzonzi. Arsenal are also given the green-light to sign Nzonzi as long as the release clause of £36m is met by the Gunners.
The French international spent seven seasons in England with Blackburn Rovers and Stoke City but did not make enough of an impact for top clubs in the country to sign him. He moved to Spain in 2015 with Sevilla and has ever since established himself as one of the best defensive midfielders in Europe.
He played a total of 34 games for his side last season and was a part of the French national side that won the World Cup earlier this month. He played a total of 141 minutes in Russia and at 29, is one of the most established midfielders in the game at the moment.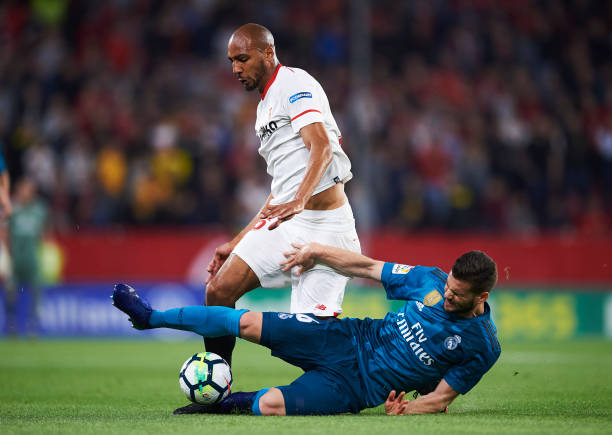 He is strong, tall and technically gifted and has previously worked under Emery in Spain. He also has previous experience in the Premier League and is a huge asset for Arsenal. He may not be a long-term option but Nzonzi is exactly the kind of a player that Arsenal are missing at the moment.
With 195 Premier League appearances, 90 La Liga appearances, 21 Champions League appearances and nine caps for the national side, Nzonzi will bring in a lot of experience to Emirates and will slot into the first team easily. Granit Xhaka and Aaron Ramsey add decent balance to their midfield but Nzonzi will not only give them more stability in the middle of the pitch but will also allow them to have a more composed approach against even the toughest of opponents.
Read More: Arsenal Hoping To Land 29 Y/O Croatian World Cup Star: What Will He Add To Emery's Side?
He was a transfer target for Arsenal even in January, under Arsene Wenger but reports suggest that they are not ready to meet his release clause, that is set at around £36m. At that price, for a player of his experience, Nzonzi is a real steal for Arsenal and could be a genuine match winner for them next season.