Having replaced Arsene Wenger with Unai Emery, Arsenal are busy trying to add players who fit into the new manager's system next season. However, a few of their first team stars are wanted elsewhere as Emery looks to keep the core of the squad intact at the Emirates. And one such player, who has now pledged his future to the club is full-back Hector Bellerin.
The 23-year old was linked with the likes of Manchester United and Juventus this summer but Bellerin has now opened up about his future and claimed that he is happy in London at the moment.
Speaking to the media recently, Bellerin said, "It is crazy that people ask me these questions all the time. I am very happy in London. I am very happy at this club." These quotes will be a huge boost for Arsenal, who need not worry about his future any more.
Bellerin joined Arsenal from Barcelona's academy, even before being given a shot in the senior side at the Camp Nou. Arsene Wenger took his time in making him a first-team star but Bellerin now stands as one of the most consistent full-backs in the league and has already made 124 Premier League appearances for the Gunners.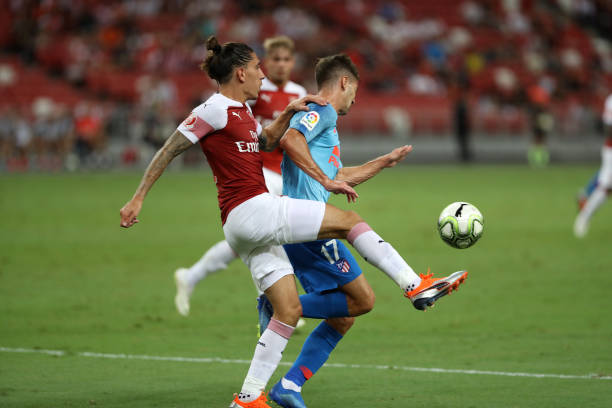 He also has three appearances for the national side and has won two FA Cups with Arsenal and has no real reason to quit the club any time soon. He signed his last deal with Arsenal in 2016 and has five years left on the contract. He does have new competition for a place in the first team in Stephan Lichtsteiner but is still expected to the be the first choice for Emery at right-back.
One of the quickest players in the game, the 23-year old has already put in some memorable performances at the Emirates and his style of play was best-suited to Arsene Wenger's system. He might have to work hard to make an impact under Emery but he does have the attributes that will allow the new manager to make him a serious part of his plans.
The Spaniard made 34 league starts last season, a few even as a wing-back, as he registered two goals and three assists. He has at times been criticized for his lack of defensive discipline but at his age, he will only improve under a coach like Emery in the near future.
Read More: Opinion: Emery Needs To Get The Contract Situation Of This Arsenal Midfield Ace Sorted!
There are no real right-backs up for grabs of such quality in the transfer market at the moment and Bellerin might not be the first choice at any club bigger than Arsenal. So staying put and ignoring any rumours of an exit is the best way forward for the defender this summer.