Manchester United's summer business might see a number of stars lose their place in the first team next season. The likes of Anthony Martial are already frustrated with the lack of game time and are continuously linked with an exit this summer. But one such name attracting a number of clubs from around England is Marcus Rashford.
The English international, who is a crucial part of Gareth Southgate's squad for the World Cup in Russia, is widely regarded as one of the best young talents on show in the country at the moment. He broke into the first team at Old Trafford under Louis van Gaal and though has been impressive in patches under Jose Mourinho, is yet to earn the faith of the Portuguese gaffer.
His recent exploits in Three Lions' shirt showed that he is ready for first-team football in the English top flight but the recruitments Mourinho has planned for his side will only see him fall further down the pecking order. He made just 17 league starts last season, making just six appearances as a centre-forward, his natural role, and will surely be frustrated with his chance at Old Trafford next season.
This has fuelled rumours that Rashford might be up for grabs on a loan deal this summer and a number of English clubs are already showing interest in his signature. Leicester City and Everton are keeping a close eye on these developments but Rafa Benitez's Newcastle United are reportedly ahead in the race to his signature. But can United afford to go into next season without Rashford on their roster?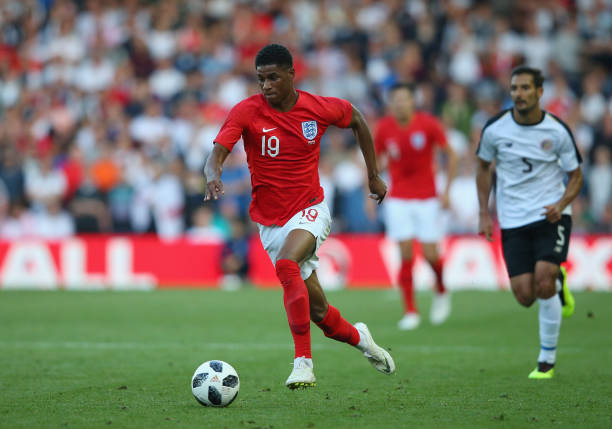 At just 20, the Manchester United academy product has shown great maturity and grit to win. He has all the makings of turning into a superstar, growing in confidence by the game. He is hardly fazed by a big occasion, which usually gets the best out of him and on his day, he is a genuine match winner like he showed in Liverpool's trip to Old Trafford earlier last season.
He is still learning the game but his potential has no ceiling at the moment but playing as much as he can, will be important to continue his progress. United have Romelu Lukaku as their first choice striker while Rashford will be a backup for him. The English youngster might be preferred on the wing alongside Alexis Sanchez but Mourinho might be tempted to add an outright winger to his side, making Rashford a versatile backup for all the roles in the attack.
Read More: Manchester United Need To Pay £60m To Land West Ham United Target: Is He Worth The Fuss?
For a club fighting in four different competitions, Rashford is exactly the kind of a player they need in the locker. He may still be annoyed by the chances he gets but playing for a club like United alongside some of the best players in the league is probably the best option for him at this time of his career.