Manchester United are in desperate need to improve their first team for the next season, having fallen far behind Manchester City in the race to the league title. Jose Mourinho is looking for options that suit his style, but he will now have to make sure that star players at the club stay beyond the transfer window.
One such player, whose future at the club is now in doubt is David de Gea.
The Spanish international, who has easily been the best and the most consistent players for the Red Devils for over a couple of years now, is now the no.1 for the Spanish national side in the World Cup. He has slowly established himself as the best shot-stopper in England and probably even in Europe and was in sizzling form for the English giants last season.
His current contract with the club expires at the end of the next season but United have an option to extend it for another year, which they are desperate to use. They are also ready to offer him a new long-term deal but De Gea does not seem to eager to put pen to paper, which has now given his long-term admirers Real Madrid, another chance to lure him back to the Spanish capital.
Born and brought up in Madrid, the 27-year old made a name for himself in his time with Atletico Madrid but only truly established himself on the map with his stint at Old Trafford. He took his time to win over the critics but has been consistently top class for seasons together now and is one of the very few players Real Madrid have been desperately scouting for.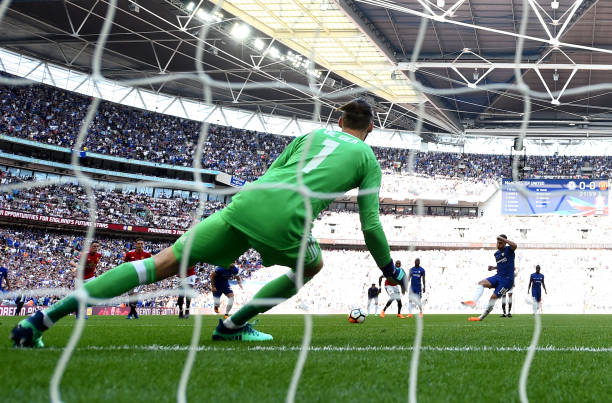 The Spanish giants were close to landing De Gea back in 2015 but a certain 'fax machine saga' saw them miss out on his signature. United got De Gea to sign a new deal just months later but he is now once again a top transfer target for Real Madrid.
Reports suggest that Manchester United have slapped a price tag of £100m, which will make him the most expensive keeper. His sale will also allow United to find an able replacement but does it make any sense for United to let De Gea leave?
As already mentioned, the 27-year old is one of the best in the world and is almost irreplaceable. But Florentino Perez is fraught with the will to bring him back to Spain and United might find it hard to hold on to him for another season.
Read More: Manchester United Face Huge Blow In Their Chase For Serie A Starlet: Should Mourinho Move Forward?
So it does make sense for the club to hold Real to ransom, getting them to pay over the odds and to recoup the fees they will have to pay for his replacement. Though the change might affect their chances, the likes of Jan Oblak and Thibaut Courtois are now in the market and this might be the best time for the Red Devils to finally replace Real's top transfer target.