Jose Mourinho has been a busy man this transfer window already. He is desperate to add some top quality players to his side this summer and has already made a couple of signings. He is still looking to improve his squad and might spend big on another addition before the start of the next season. One such name extensively linked with a move to Old Trafford is Toby Alderweireld.
The Belgian defender, who was offered several new contracts in London, decided not to sign any and is out of a contract in just two years. So Mauricio Pochettino is happy to let him leave and wants to invest the return in improving his own squad. Manchester United and Chelsea have shown interest in Alderweireld but are yet to make an approach due to his asking price.
Latest reports claim that Tottenham Hotspur will hold on for £55m, which is a tad expensive for a player who has just two years on his current contract. But United are in a strong position, thanks to Tottenham Hotspur's interest in Anthony Martial. So Mourinho can yet get this deal done but what will Alderweireld bring to Old Trafford?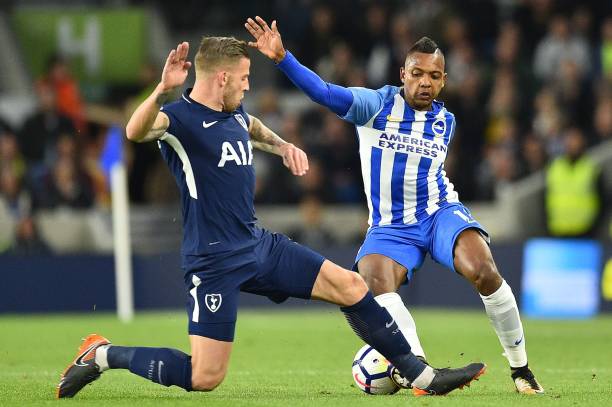 Experience, grit and a winning mentality to start off with. The 29-year old, who has earned a name for himself as one of the best defenders in the league since his move to England back in 2015, is a crucial part of the Belgian squad travelling to Russia. He has 108 Premier League appearances, 76 international appearances and a total of 61 European appearances and is an established star at the highest level.
He is strong in the air, smart with his positioning and quick to cut off danger in and around the box. His dominating presence in either box makes him much more dangerous. He is also confident with the ball at his feet and though is not a dribbler, can often find the right pass, to help his side set up attacks from the back.
He has rarely made an error in 3+ years in the country and is easily an upgrade on the options at Old Trafford at the moment. Mourinho spent on Eric Bailly and Victor Lindelof in the last two summers but used a CB pairing of Phil Jones and Chris Smalling for the FA Cup final against Chelsea.
Read More: 22 Y/O Sevilla Youngster Closes In On Old Trafford Switch: What Can He Add To Manchester United Squad?
It shows that Mourinho is still not fixed on his first choice CB for the next season but Alderweireld will steal that place if he makes the Old Trafford switch. He is also a natural leader and will help players around him to go in as a group, marshalling the defence. He might be a bit expensive but his experience and technical ability make him a necessity for United, even at that price.