Pep Guardiola did the unthinkable in the Premier League, dominating the points table, right from the first game. His side never gave the other clubs a sniff at the league title and the quality at Etihad will now push other top clubs in England to spend big, to try and match them.
However, Guardiola himself is not completely happy with the options at his disposal and is expected to sign more than one superstar this summer as well. One such player, they are now interested in is Toni Kroos.
The German midfielder, who joined Real Madrid in 2014, just months after lifting the FIFA World Cup with his national side, stands as one of the best midfielders in the modern game. With great vision and technique, he is a naturally gifted player, who has an equal effect outside both boxes on the field.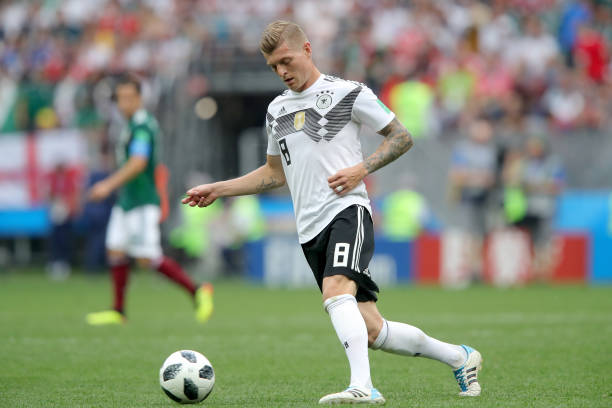 He is a hard-working midfielder, happy to do the dirty work but his biggest asset is his ability to create chances consistently in the final third. He is confident on the ball, can dribble past a group of opponents with ease and is always searching for space, to try and keep the pressure on the opponents.
He rarely misplaces a pass, can produce through balls the set up his teammates on goal and at just 28m, has at least four more years of his best football ahead of him. He was a part of each of the three UCL title winning Real Madrid squads and is also one of the most decorated midfielders at the moment.
And reports from Spain suggest that he has now turned into a top transfer target for Pep at Etihad. The reports claim that Real Madrid are not really open to a sale but could listen to offers. And it is understood that Manchester City could submit a £60m bid for his services.
Read More: Manchester City Ready To Offer Teenage Sensation New Long-Term Deal: Good Move By Guardiola?
The story also reveals that Manchester United are also interested in his signature but the recent signing of Fred leaves no room for Kroos at Old Trafford. But on the other side of Manchester, Kroos will be the first choice, probably over Fernandinho. He will also replace Ilkay Gundogan, who is now a transfer target for Barcelona.
It is not easy for Guardiola to find upgrades for a team that ruled the Premier League last season but Kroos is one of the very few people who can walk into the first team and improve an already impressive squad. At £60m, he is an absolute steal, but there is only a thin chance that Los Blancos will let him leave any time soon.
Latest posts by Aakarsh Bommakanti
(see all)