After yet another season with little progress in the Championship, Leeds United are now a club in real need of some improvement this summer. They have managed to land Marcelo Bielsa to take charge of the club next season and the manager is already looking to add some quality to their first team this summer.
This has seen the Whites linked with a number of star players recently but one name that continues to frustrate them is Matej Vydra.
A transfer target for the club for over a month now, Vydra was one of the most consistent goal scorers in the Championship last season, registering 22 goals and four assists in all competitions last season. He was the top goal scorer for The Rams last season and has attracted interests from various clubs in the country.
Reports suggest that Frank Lampard, the new coach at Derby County, was ready to let Vydra leave, to try and improve other areas of the squad. They had Bristol City's Bobby Reid as their top transfer target to replace Vydra, but Premier League outfit Cardiff City have snatched Reid recently, leaving Derby stranded.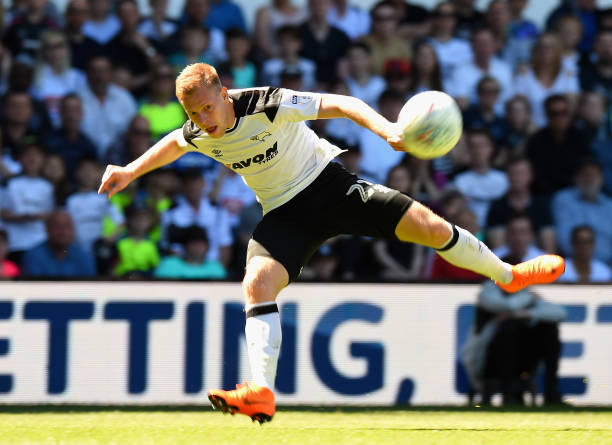 Leeds United looked like they would miss out on Vydra, with Lampard still in search of a replacement but it is now understood that the Whites have made their first move to try and land the 26-year old this summer.
The Daily Mail claim that Leeds United have made a £12m bid for his services a few weeks ago and are waiting on a response from the Rams. Vydra is touted as the top transfer target for Bielsa this summer, so do you think they can land him?
The Whites have a decent squad at their disposal but have struggled to find a regular goalscorer last season. Kemar Roofe and Pierre Michel Lassoga were both in decent form last season but have not shown enough promise to retain a place in the first team next season.
So the Derby County striker is expected to walk into the first team and his goalscoring record at Pride Park will give the Leeds fans a lot to look forward to next season.
Read More: Leeds United Eyeing A Move For Sensational Manchester City Ace: A Coup For Marcelo Bielsa?
At £12m, he is slightly expensive for a club in the Championship but for a club like Derby, it is an amount that can help them rebuild the squad from the scratch. They will lose their star player but can now spend on a name that fits in Lampard's system next season. So this deal might drag on, but it looks more and more likely that Leeds United will get their man before the start of the next season.
The following two tabs change content below.
Aakarsh Bommakanti
Was diving around lush green grass not so long ago but my keyboard is all I have now. An avid observer of detail in sports with a passion to make myself heard. Can find me playing on a field if not in front of my screen.
Latest posts by Aakarsh Bommakanti (see all)