Manchester United are one of the most attractive clubs in Europe in every transfer market and though they have not been at their best recently, they have a strong squad and a foundation, that can help them rule the game in years to come.
So it does not come as a surprise that stars from different leagues in Europe are interested in playing for the club. Jose Mourinho has a system of signing players who fit into particular roles in his system and one such player, who wants to play for the English giants is Emmanuel Boateng.
The 22-year old only moved to Europe for the first time with La Liga outfit Levante last year but has already made a name for himself with his show in the second half of the season in Spain. He made just 11 starts for the club but picked up five goals, playing on the wing or as a no.9 to equal effect. He did take his time to settle in but now looks the real deal and could be an exciting prospect for even the best teams in Europe.
His last game of the domestic season saw him net a hat-trick against Barcelona in a memorable 5-4 win and such confident performances have seen him break into the Ghana national squad at a tender age. He is still 22 but has already made his debut for the national side, picking up a goal in his only outing, showing that he is slowly establishing himself at the highest level.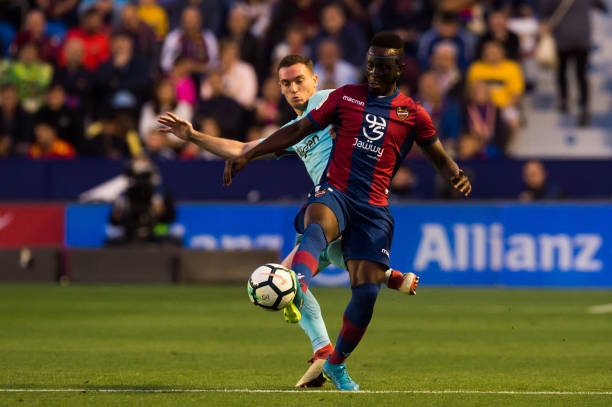 A strong and demeaning presence in the final third, the former Rio Ave star is adept at drawing fouls in and around the box with his hold up play and can test the keeper from different ranges and angles. He is quick and strong, ready to run off the final defender and is a nightmare for full-backs. His strength and technique allow him to dribble in close areas making him all the more dangerous.
He has immense potential and will want to play for the biggest clubs in Europe and recently named Barcelona and Manchester United as the clubs that 'excite him'. So should United make a move for him?
Mourinho lacks genuine wingers in the squad and though has quality in attack, does not have too much diversity. They need some pace on the wings, which Boateng can add but at just 22, it is not going to be easy for him to break into the first team.
Read More: Manchester United Linked With Move For 21 Y/O Ligue 1 Midfielder: What Can He Add To Mourinho's Side?
The Red Devils will also want to sign an upgrade on players they already have, leaving Boateng only as a backup. So the youngster is better off staying with Levante for another season before he can introduce himself to the big guns in Europe.