The FA Cup victory on the final day of the season should not cloud the lack of progress at Stamford Bridge as Antonio Conte, who lifted the domestic league title in his first season in England, is in serious danger of losing his place at the club.
But that has not stopped Chelsea from scouting for addition to the squad this summer as they continue to be linked with a number of exciting stars. One such player, they are now interested in is Bruno Fernandes.
Born and brought up in Maia, Portugal, the 23-year old started his senior career with Novara, before he moved to Serie A with Udinese. He was impressive in his 3-year stint at the club and was soon picked up by Sampdoria in 2016 and in just one year, he established himself as one of the most consistent midfielders in the Italian top flight.
He was brought back to his home country by Sporting just last summer after he also managed to break into the national team. He is a crucial part of the Portugal squad in Russia and is a serious talent, that can walk into the best squads in Europe.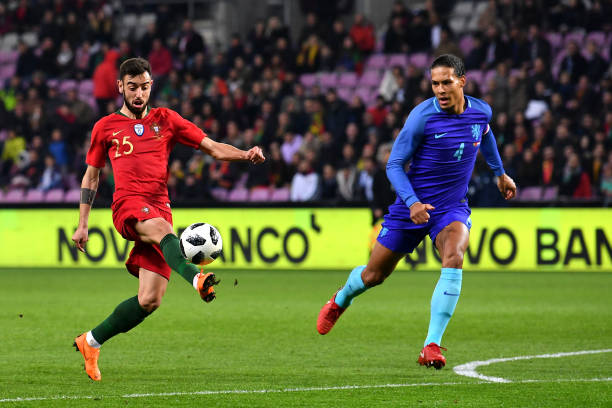 His current contract with Sporting runs down till 2022, but he joined the long list of players who have rescinded their contract, after being attacked by their own fans, after the end of the recent season. He is yet to be a free agent, and if Sporting do not terminate his contract, he has a release clause of £88m, that can be activated this summer. So is he an option for Chelsea?
With 16 goals and 12 assists in all competitions last season, the 23-year old is a versatile, attacking midfielder, who can play on the flanks as well. He is a disciplined presence in the middle of the park, happy to do the dirty work but what makes him attractive is his ability to create chances on a consistent basis.
With great vision and technique, he often releases teammates into space in dangerous areas in the final third, while his ability over a deadball makes him much more dangerous. He rarely loses the ball, has the skill to beat his man on the wing or dribble past a crowd, all the while keeping an eye on creating space for his teammates.
Chelsea have Cesc Fabregas as the only player who plays in a similar style while Ross Barkley can also chip in. But Fernandes is a long-term upgrade over Fabregas and will add a balance to the side that seemed to be missing last season.
Read More: Star Forward To Ponder Upon His Future At Chelsea Over Unresolved Muddle: What Should The Blues Do?
His release clause makes him too expensive but if he turns into a free agent, Chelsea should do all it takes to land him this summer.
Latest posts by Aakarsh Bommakanti (see all)