Having managed to replace Arsene Wenger with an exciting option in Unai Emery, Arsenal are now expected to be a busy club this transfer window as the new manager looks to assert his style on the squad at Emirates.
The Gunners are looking at some exciting stars, having already made a couple of signings this summer and one player they now have their eye on is Jasper Cillessen.
The 29-year old, who graduated from the academy at NEC, only made a name for himself in Europe with his time at Ajax, where he managed 101 Eredivisie appearances in five years at the club. He was snapped up by Barcelona back in 2016 and has made just one La Liga appearance last season and the in the one before, acting as a backup to first-choice shot-stopper Marc-Andre ter-Stegen, at Camp Nou.
He did make seven Copa del Rey appearances, including a clean sheet in the final against Sevilla, showing that he belongs at the highest level. Known for his ability to save close-range shots, thanks to his reflexes, Cillessen is a no-nonsense GK, who rarely takes any risks. He loves to spread the ball out wide and is usually accurate with his passing but it is his confident approach to everything thrown at him that makes him an effective player.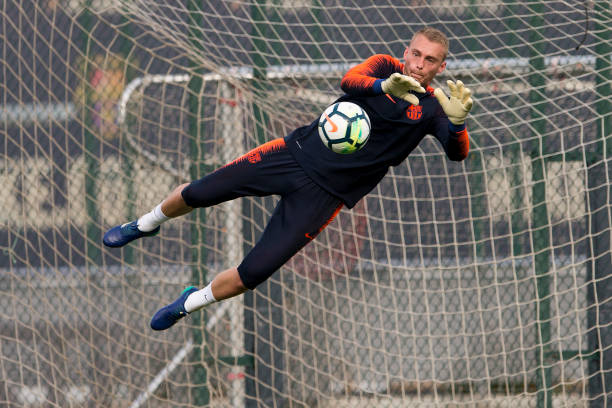 At 29, he is yet to hit his peak as a goalkeeper in football and is a natural upgrade on the current options at Arsenal. The Gunners have used David Ospina in the cup games while veteran Czech star Petr Cech has been the first choice. Cech is now 36 and no longer as consistent, leaving Arsenal in search for a shot-stopper his summer.
The likes of Bernd Leno and Sergio Rico have also been on their radar but Cillessen has been impressive recently and could be a decent coup for Arsenal.
Cillessen himself has recently spoken to the media about interests from Arsenal and Liverpool and claimed that though it will be tempting that the decision will be made by the club and that he is happy at Camp Nou at the moment. However, he has a release clause of £52m and Unai Emery is pondering over meeting his valuation before the start of the next season.
Read More: Arsenal Interested In 20 Y/O Eredivisie Winger: Right Fit For Unai Emery's Plans?
The Dutch international, with 40 international caps, has played just 103 league games in Europe and is slightly inexperienced. He could also take time to establish himself in the English game, making him an option for the future. But Arsenal need someone to replace Cech in the first team, maybe even in the next season, and Cillessen may not be their best option.